Review of Coventry Club – Nudist Resort in Milton, Vermont
With a three day holiday weekend, Jordan and I had the opportunity to check out Coventry Nudist Resort up in northern Vermont. It's in the small town of Milton, which is on the eastern side of Lake Champlain on the border of New York and Vermont.
It's about a 30 minute drive from Burlington (and 2 hours from Abbott's Glen and the Ledges also in VT). From New York City it took us about 6 hours to get there.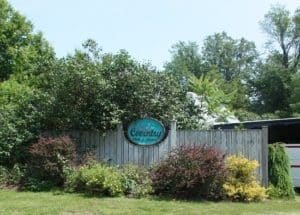 The nudist resort is in the countryside, surrounded by farm land and built right on an 88 acre lake called Long Pond. It's the oldest nudist club in Vermont and was established in 1956 by a French Canadian named George Fletcher (who passed away in 2010). He called it Forest City Lodge.
The current resort owners, Bill and Susan, bought it from the Fletcher family in the year 2000 and renamed it Coventry Club & Resort. We met the two of them upon arrival Friday evening. Susan is an affable woman with an expressive face and a boisterous laugh. Her husband Bill is more reserved and has a strong New England accent. They were both very nice and welcoming.
You can camp for $12.50 / night but this time we rented a cabin. We got the key and followed Bill on his golf cart through the gate and down to our cabin where we parked. Then we hopped on his golf cart for a short tour of the grounds.
He showed us their nudist clubhouse which could be mistaken for someone's home until you see the community chalkboard out front. Inside are tables and chairs on a wood floor, DJ stand and karaoke machine, fully equipped communal kitchen and big screen TV. One wall is lined with shelves filled with books, movies (on VHS!) and board games.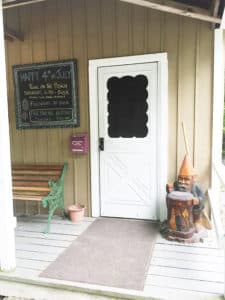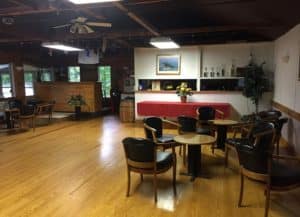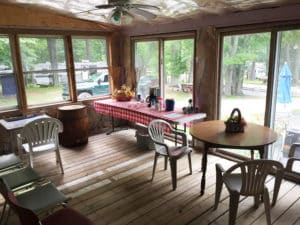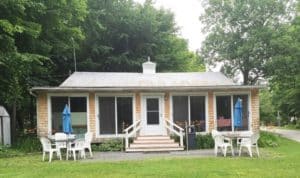 A few steps from the main room lead down into a closed-in porch that looks out onto a small lawn. Here you can find complimentary coffee on weekends (but be prepared to brew it yourself). There are more tables and chairs outside and a fire pit off to the side.
Across the road from the clubhouse are two petanque courts. We could see it's a popular game here since a group of at least 20 people were gathered around playing games on Friday night.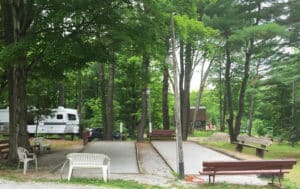 Bill zipped us down the road and pointed out their "nude beach" which is a sloping green lawn. Nearby, there's a beautiful and quite large hot tub, outdoor showers and a little cafe where they sell hot dogs and hamburgers for lunch on the weekend.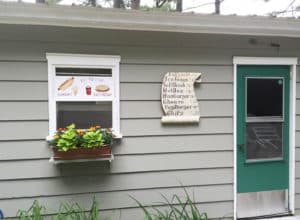 Aside from the BBQ lunch and organized events, there's no other food on-site so you have to bring in your own. There's a Hannaford grocery store conveniently located a few miles away in Milton.
Some of the nudist resort members grow their own food. Bill showed us their cute community garden where members can get their own plot and grow whatever they want.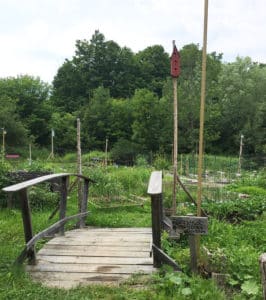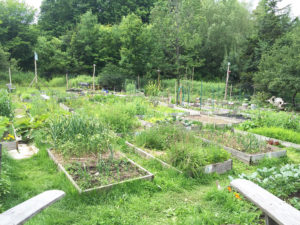 Near the office we noticed a little blue shack with a sign that said "Swap Shop." Bill explained that it was a place for members to freely exchange things they no longer wanted.
Like a community Freecycle. Eco-friendly and reducing waste. I love it! Every nudist club should have one!!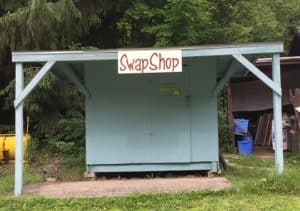 Our cabin was a 2 bedroom trailer (the last available rental) with a full kitchen, living room, and full bath. It was obviously a bit old, but they seemed to have made some updates to it. I wasn't a fan of the strong perfumey smell. Jordan thought it came from the new linoleum kitchen floor.
Before arriving, we had asked about a grill to use for meals. The cabin didn't have one but they were super accommodating and brought a grill over for us before we got there.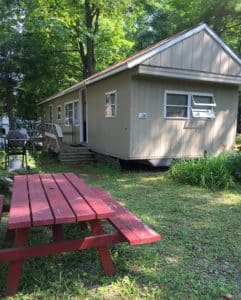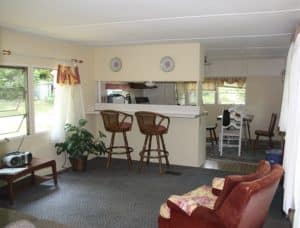 Our trailer was centrally located among the members' permanent RV and cabin sites, which number around 50. On Saturday we saw people tending to their plants, flowers and landscaping. The grounds themselves looked well cared for with trimmed lawns and flowers planted here and there.
The whole place feels more like a private gated nudist community than a resort. This isn't necessarily a bad thing though. It's a very cute place, and everyone is friendly so you won't feel left out. There are weekend parties and events like at any other club. The members are mostly older, the youngest maybe in their 40's. Nudist families and kids are welcome, but there weren't any kids when we were there.
After settling into our place, we walked down to the hot tub for a relaxing soak. Their hot tub is bigger than most and has jets but no bubbles, so I guess it's more like a "conversation pool." It's surrounded by sliding glass doors fit with screens, so it's easy to let in fresh air or not.
Cacti and other potted plants decorate the room, perfectly suited for the heated environment. We met another couple there visiting from Massachusetts and were surprised nobody else joined us on this cool evening.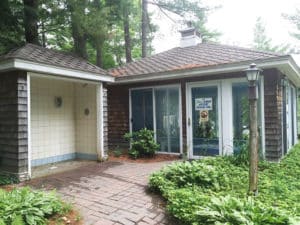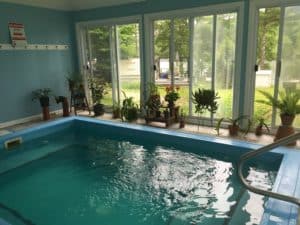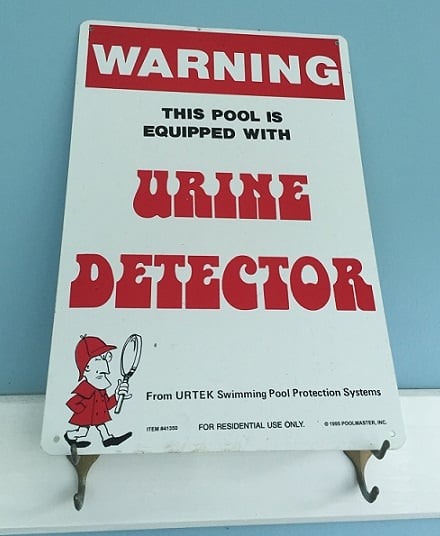 Though I thought we were set for good weekend weather, Saturday turned out to be cloudy and lower to mid 70's most of the day. It was very quiet on the grounds, and we were two of three people at the beach.
Jordan took up fly fishing in the water and just caught some small bass. Long Pond has no public access beyond the resort, so the fishing is supposed to be good and the members are definitely into it. We noticed quite a few pontoon boats docked along the water.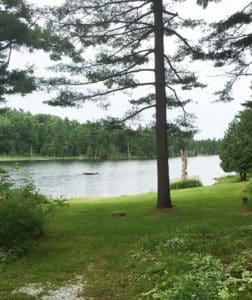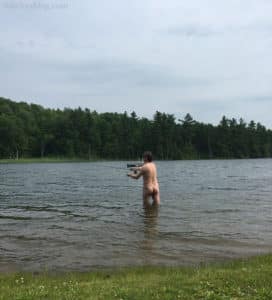 Though the beach was understandably empty, I was surprised to see nudist couples playing horseshoes and croquet on their big lawn. Many resorts have facilities for games like petanque, ladder ball, bocce ball and horseshoes, but mostly I see them go unused. It was nice to see members actually using these facilities at Coventry.
There's no WiFi on the grounds except for at the office. This is especially inconvenient as there is pretty much no cell reception either. (You can get one bar if you stand in the exact right spot.) But they will let visitors use the WiFi at the office. They also provide a phone at the clubhouse for anyone to use.
On Saturday evening there was supposed to be a picnic on the beach, but heavy thunderstorms quickly squashed that idea. Instead we had a nice dinner with the owners at the clubhouse and met a few members / visitors who came in later on.
Luckily the rain stopped by nighttime, and they were able to do a big fireworks show on the lake for 4th of July.
Of course Sunday, our day of car travel, dawned bright and sunny. They had a free pancake breakfast at the clubhouse, which we thoroughly enjoyed. Then we went down to the beach for our last hour of sunning and swimming. This time a bunch of people were lounged out in the sun in deck chairs or on towels, and people were out in paddle boats on the lake.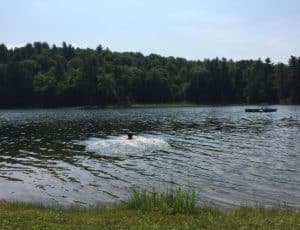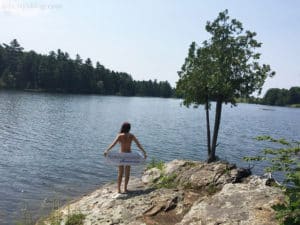 I went in for a swim. There's a little sand near the shore but mostly the bottom is a tangle of green seaweed. It starts out very shallow but drops off quickly to as deep as 35 feet out in the middle (Bill told us). The water was cold, but clean and refreshing on this hot day. There's an anchored raft to swim out to not far from shore.
Just after I got out of the water, we noticed a water snake slithering along the shore. He looked harmless enough. (But I'm not sure I would've gone in had I seen him before!)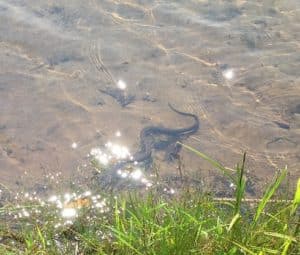 With the view of the lake, green grass, trees, orange wildflowers (prairie lilies I believe), this really is a beautiful place to be on a summer day.
Regrettably, our time in the Vermont countryside was coming to an end. We had a long drive back, so we packed up and said our goodbyes, with hopes to return someday soon.
In speaking to Bill and Susan, we also learned they have another nudist place on the coast of North Carolina near Myrtle Beach. Some years ago they took over a nudist / swinger resort called Nirvana Sun Resort and renamed it Coventry NC.
They said it didn't work out as a nudist resort because they couldn't get rid of the strong swinger aspect. Now they are turning it into a gated nudist community known as "Harbour Estates" and have lots for sale on its 30 acres.
Learn more about Coventry Resort and Harbour Estates on their website at www.coventryresort.com.
A few other notes about visiting Coventry:
Their new address (forced on them by the town) will not come up on maps / GPS. Make sure to use their old address— 468 Beebe Hill Road —to navigate.
There are hiking trails, but bring bug repellant! In the woods especially, the mosquitos will eat you alive.
If you forget bug spray, the office does sell it along with other essential items in their little store.
It's not specified in the rules, but we verified that nipple / genital piercings are permitted.
This review was originally published in July of 2015. For the most up-to-date information about Coventry, please refer to their website or contact info.