Naked in A Cave: A Unique, Body-Positive Event at Howe Caverns
Being an active figure in the nudist scene for so long, I can definitely say I've participated in a great variety of social naked activities, some more out-of-the-box than others.
The event I attended this past Saturday, however, was a first. Jordan and I got naked in an underground cavern in upstate New York with over 275 people. It was "Naked in a Cave" night at Howe Caverns!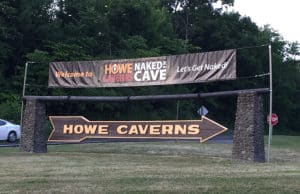 I first heard about this event on Facebook when Howe announced it on their page a few months ago. They promoted it as a celebration of "International Nude Day" (July 14) and body positivity. Their promotional flier had a cute illustration that evidently features their own staff members, made to appear naked at a cave entrance. It contains the details along with the statement, "Howe Caverns believes natural is beautiful!"
Their post quickly got hundreds of comments, and I remember being surprised at how most people seemed either interested, supportive or amused by it. The negative comments I saw were self-deprecating people who didn't think they looked good enough to participate. (I find that most of the time, the people who are"anti" or "haters" are just the people who feel ashamed or insecure about themselves.)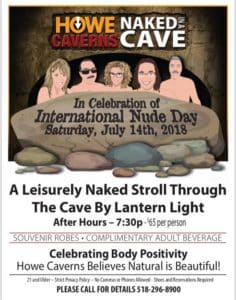 By early July, they had reportedly sold 3/4 of the 350 available tickets. The event had really taken off!
I had never been to Howe Caverns and Jordan had not been there since he was a kid. So we decided that this was a good time to for us to visit. We had heard of Howe Caverns before as it is a big tourist attraction and prides itself on being the 2nd most visited natural attraction in NY State (next to Niagara Falls).
We arrived at about 7:30pm, the time the event was scheduled to begin. The place was already jam-packed with people milling about in the black "souvenir robes" that came with every ticket purchase. I felt a mix of excitement and nervous anticipation from the crowd.
At check-in, we received wristbands and bags (both unfortunately plastic) for our clothes. Both had the same assigned number written on them so we could check the bag and retrieve it later. I have to tip my hat to the staff at Howe as the logistics were very well thought-out and organized.
We stripped down in the bathroom and then returned to the main lodge area wearing only our robes and sneakers. The entire place was closed to the public for this event, but the rules were that you had to wear your robe in the lodge and bar / restaurant area. The naked time was supposed to be during the cave walk. Though as the night went on, a few people didn't care anymore and just went naked in the lodge. Nobody seemed to care or mind which was nice.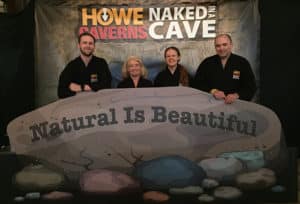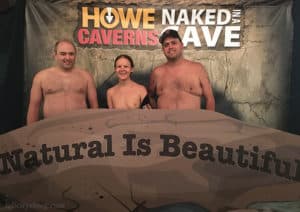 Tickets also included one drink (alcoholic or non), so a long line had formed pretty quickly at the bar where a few topfree bar maids were serving the patrons. I think some were in need of "liquid courage" before getting naked in public with a bunch of strangers. Next to the bar a talented balloon artist provided distraction and entertainment with light-up creations (albeit, some of the creations were a bit on the racy side for our liking).
It was hard to tell what percentage of people were actual nudists vs newbies. But it seemed like many had never had or participated in any social nude experience before. We did run into a bunch of people we knew, like Jim and Peg, owners of Juniper Woods who we love and adore. But, for the most part, I had expected to see a lot more familiar faces. There were people of all ages, from 18 year olds to seniors, and some had traveled hours by car and plane to attend from as far as Chicago, D.C. and even Virginia.
One wall of the lodge had two photo-op areas set up with professional photographers that were there to take photos for Howe's social media. They had signs you could hold with cute, silly / funny sayings and joking references. Like the all too famous Seinfeld inspired reference to shrinkage – "I was in the pool!" I was impressed by how much Howe had invested in signs and decorations just for this one event. They had clearly put a lot of thought and effort into this and it did not go unnoticed.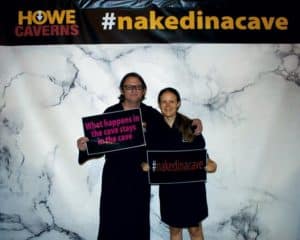 There was also a photo area with props inside the cave where people could get a souvenir "naked in a cave" photo for an extra $10. Cameras and cell phones were otherwise prohibited inside the cave as a privacy safeguard. There were no media crews present either, as Howe announced they could only visit earlier in the day, prior to the event. Any journalists came in as participants like everyone else.
On another side of the room was a poster and table for the promised meet and greet with Sarah Danser from Naked and Afraid All Stars. She served as the event's celebrity guest and came all the way from Hawaii to attend. We later passed her in the cavern, walking ahead of an older gentlemen who was saying "Piece o' cake!" to describe the walk, and Sarah was calling out "I love cake!"
The event went from 7:30 to 11:00 pm, and people could line up for the cave walk at any point during the evening. We were sent down in small groups of 15 people at a time, by way of an elevator that transported us well below the surface to the cave's entrance (the cave is located 156 feet down). Once inside the cave, they had a table and check-in to take our robes. Up until this point I thought we'd be carrying our robes or just loosely wearing them in case we got too cold. But no, we were "forced" to get the authentic naked experience! And it wasn't easy because it WAS COLD! The cave is said to be 52 degrees year-round, and normally people visit fully dressed with a sweater and jacket. Not to mention we would occasionally get dripped on by the water coming down through the cave ceiling. So we were really braving it here.
Halfway through, the staff was serving up hot coffee and tea along with cookies and brownies, which helped warm us up. They also had a harpist strumming live music in the cave for us during this snack break. Not wanting a caffeinated drink, I took a cup of hot water just to hold and warm up a bit.
The cave walk itself was a self-guided tour. We were given pamphlets with information about the most notable formations and points of interest. Staff members were posted all along the path to answer questions. Each one of them wore a black robe and a sign around their neck with a funny or body-positive message on it (of their own choosing). I really liked how they went an extra step to focus this event on body acceptance, so it wasn't just a gimmick.
So we walked through at our own pace, looking at the stalagmites and stalactites. At the end of the cave was an underground lake they call the Lake of Venus. Here was an optional boat ride (small towels provided for sitting) to take us over an eighth of a mile along the water. A staff member at the helm expertly guided us between the cave walls.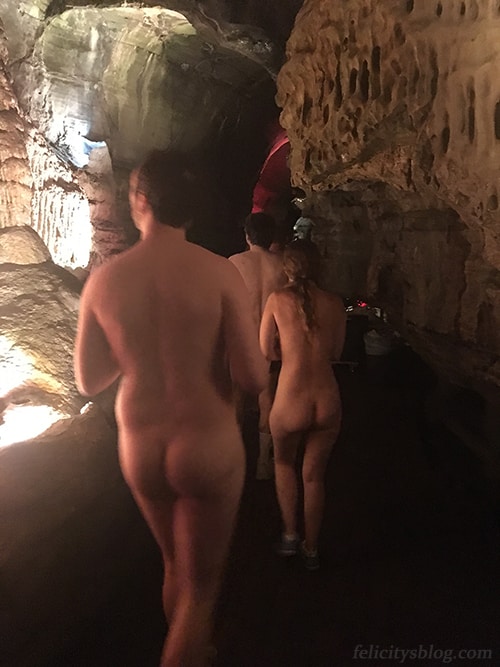 Then it was a short walk back to the head of the cave, with a fun detour through a twisting, very narrow passage called "Winding Way." While I had thought it'd be a brief tour, I think we were down in the cave for about 90 minutes in total but did not notice how fast the time flew by!
Before going back up in the elevator, we collected our robes, and everyone was given a medal to wear like a prize or badge of honor for successfully completing the "naked in a cave" walk. Every medal declared, "You're a sexy beast!" in writing on the front.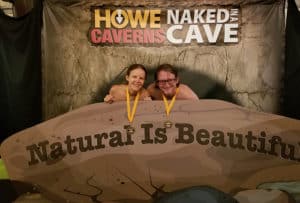 Once we returned to the lodge, we were free to continue socializing, get drinks or food, or wander outside to their patio. After that chilly walk, it was nice to step outside into the warm summer air!
Besides a couple of people who hit the booze a bit too hard, the event seemed to run smoothly and had a lot of positive energy. Jordan and I and our group of friends had a great time, and it appeared as though everyone else did too. The other reviews I've read online have said much the same.
It was great to witness the success of this mainstream, non-sexual naked event that targeted the general public and got a big turnout. When done right, I think there's no question that events like this not only counteract body shame, but also introduce a wider audience to the idea of naturism in a beneficial way. But even if these people just came to cross this off their bucket list and never do a naked event again, this event had still generated a ton of acceptance and a positive outlook on social nudity / naturism.
If you missed Howe Caverns' Naked in a Cave, you might get another opportunity to participate! As we were leaving the staff indicated that Howe Caverns wants to make this an annual event. So "like" and follow their new Naked in A Cave Facebook page to show your support and stay up-to-date on future events.