The Northeast Naturist Festival Celebrates Its 25th Anniversary in 2016
This past August was the 25th annual Northeast Naturist Festival organized by Morley Schloss. Over a period of six days, naturists gathered at Empire Haven Nudist Park in upstate New York for workshops, activities and connecting with friends, both old and new.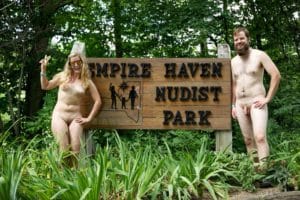 This festival is a community event in the truest sense because the majority of workshops are given by and for those who attend. Anyone can sign up to lead a workshop based on their knowledge or area of expertise. (Workshop leaders are not paid, but they do get a day's ground fee waived for each one they lead.)
I've been going to the festival since 2011, and it immediately became one of my favorite naturist events. I love the community-driven aspect, and it's been a pleasure getting to know some of the regulars over the years.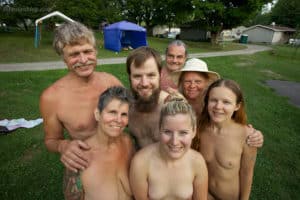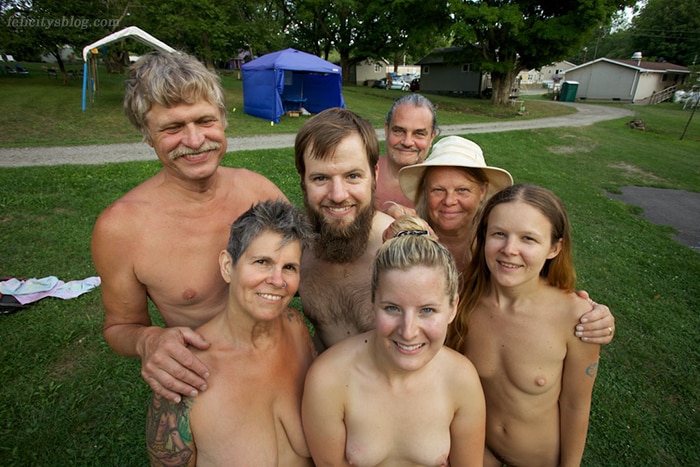 The festival usually takes place at the end of July / early August and always runs from a Tuesday to Sunday, with most visitors arriving on the weekend. (I've always arrived on Thursday and stayed til Sunday.)
We camped out as we normally do. Empire has a few rental units that get taken quickly for the festival. (They got rid of the old moldy sleeper units.) The camping areas are large and spread out. You can camp in a big field or reserve a site with water / electric. The grounds and workshop areas are pretty spread out in general. I find I can see certain people one day and then easily not run into them for two days while we remain on site!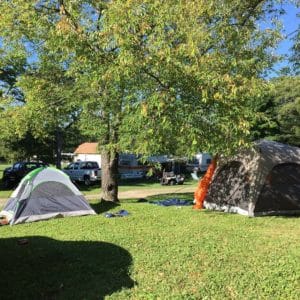 Everyone that wishes to attend the festival pays a registration fee ($40-$50) that goes to The Naturist Society, in addition to daily grounds fees ($18 / day) to Empire. There were some positive changes made to the festival fees this year with reduced entry if you arrived later in the evening (and no daily grounds fee after 10:00 pm) and 50% off the registration for a one-day visit.
There are meals served buffet-style for breakfast, lunch and dinner (at extra cost). Though convenient, it is expensive. As a vegan, I do always appreciate the nice salad bar with greens and vegetables at every lunch and dinner. What I DON'T appreciate is that they still serve with Styrofoam (even though we have complained about that fact every single year)!
This gave me particular motivation to bring my own stainless steel tableware that I washed afterward. But no naturist club should be serving food on Styrofoam!!! Everyone who cares about the planet and their own health should please say something when you see Styrofoam being used at nudist places (or any food establishment, really).
The daily workshops start at 9am and continue for the rest of the day, with a few different ones happening every hour. The activity offerings can vary each year depending on the attendees, but there always seems to be a wide variety of topics covered from naturism to spirituality to environmentalism to exploring relationships / sexuality to health, body image and more. There are also hands-on or movement-based workshops such as dance, drumming and yoga. In the evenings, there are concerts, shows, film screenings, dancing and a campfire drum circle.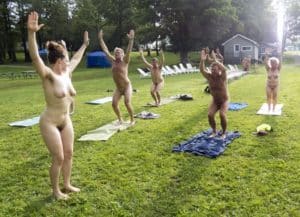 One of these years I will make it up early enough to join the annual trip to Potter's Falls! This is a skinny dipping waterfall pool that festival goers always hike to on Wednesday of the festival.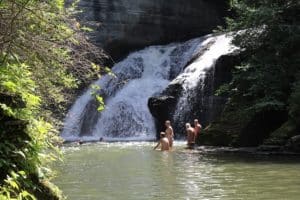 This is always a family-oriented event so there are special activities organized for kids every day.
When you're not attending a workshop, you can enjoy the facilities at Empire Haven, which include two hot tubs, a heated outdoor pool, sauna and nature trails. Many people like to sunbathe and socialize in lounge chairs around the pool.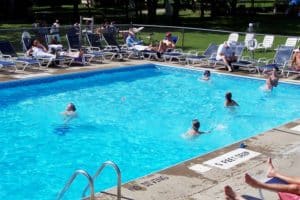 I myself organized four workshops — on zero waste living, a tutorial on making Rosemary's Perfect Cream, DIY body care and an intro to YNA with Jordan.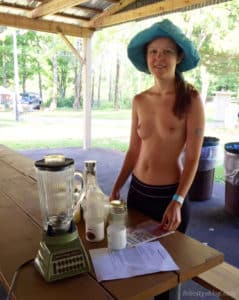 One of the highlights this year was a new social meeting place called Petra's Coffee House, set up by Empire members Brian and Petra. They put up a large white tent by their cabin site and decorated it with comfy chairs, tables and lights. They even projected a fireplace on the wall for ambiance. In the evenings it was open for people to go and hang out, play some music and socialize.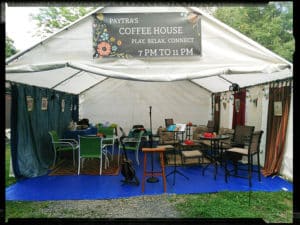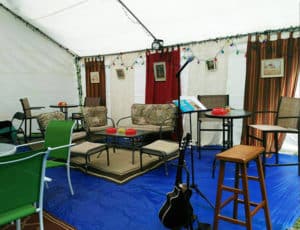 On Saturday, they removed all the furniture and held a late-night rave! Complete with thumping music, flashy lights and glow-in-the-dark body paints. This was a popular event and a good time for all.
Another new festival event was a "Lights on the Pond Water Ceremony" created by Brian. There's a small pond (not for swimming) on the club grounds, and he placed tons of candles all around it. He also hung glow sticks from the trees. It was a beautiful sight!
For this nighttime ceremony, we all gathered next to the pond in a circle. Brian talked about the power of water and then invited people to each share a memory involving a body of water and / or to say a few words on how it affected our lives. We all poured a little water into one bowl, and this was poured into the pond at the end. It was a unique and touching event.
This was just one of the many activity options on Saturday night. Singer / guitarist Faerie Elaine also gave a fun, engaging performance. She's a Beatles fan and plays classic Beatles songs as well as her own original music. The audience is encouraged to sing along, which always makes for an enjoyable concert.
Later Michelle Angel played her large gongs, drums, crystal bowls and other instruments in a sound meditation she calls "Harmonic Immersion." She's been performing at this festival (on and off) for many years, and this is where I first experienced the incredible sounds of the gongs. I went to her first show on Friday night, and it took me into a relaxing, meditative dream state.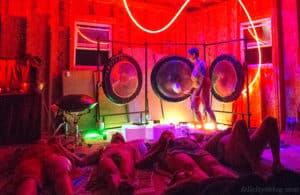 On Saturday we also had a YNA potluck BBQ dinner party, which has become our annual festival tradition. It's hosted by our friends Steve and Susanne on their trailer site. We had such a nice group of people and it gets bigger and bigger every year.
This being the 25th anniversary of the festival, we got to celebrate with a big cake after taking the annual group photo on Saturday.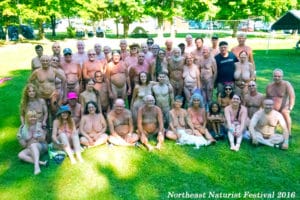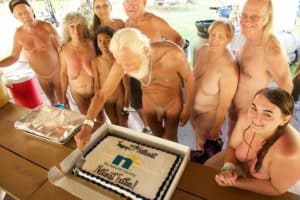 As the festival was coming to a close on Sunday, there was the annual tradition of the pudding toss! For those unfamiliar with this game, it's basically like a food fight but with only pudding. Plus we're naked and outside, so clean-up is a lot easier.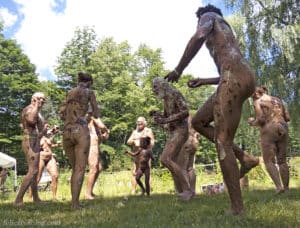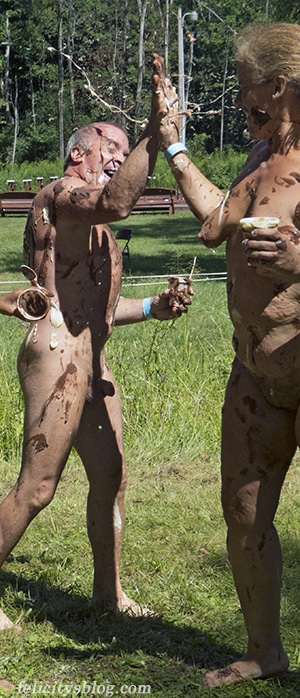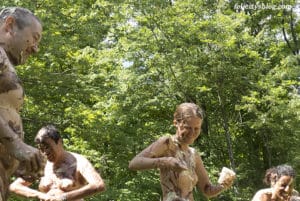 There were many other workshops, activities and shows that I didn't get to attend myself. Ben of the Human Awareness Institute (HAI) returned to lead a group intimacy workshop on Saturday. We did a few group sessions with him at YNA gatherings, and if you ever get the chance to do this I highly recommend it!
We lucked out with the weather this year as it was nearly perfect all week. The 25th annual festival was another successful event, and we hope it continues another 25 years and beyond.
It should be noted that this naturist festival has a winter version – the Midwinter Naturist Festival which takes place every year in February at Sunsport Gardens Family Naturist Resort in Loxahatchee, Florida.