NY Laws On Topfreedom, False Arrests and Topfree Equality in NYC
Like many U.S. anti-nudity laws, New York's "Exposure of a person" law — Penal Code 245.01 — includes the female nipple when describing body parts that aren't allowed to be shown / exposed in public. (With the exception of public breastfeeding.)
HOWEVER, this part of the law was nullified in 1992 by the NY Court of Appeals ruling in People v. Santorelli. Ever since then, it has been legal for women to go topless in public wherever men can.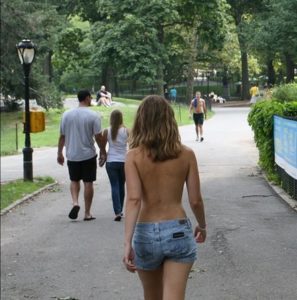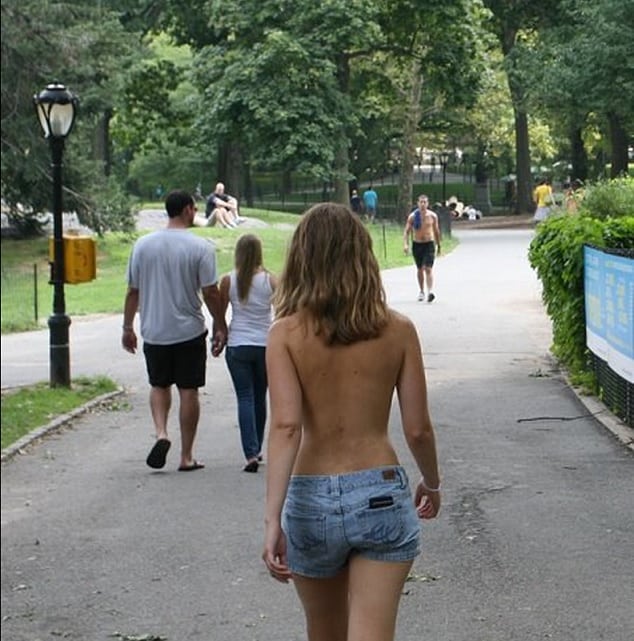 It is a common misconception that women's right to go topfree is written in New York state laws. In fact, the public nudity law (penal code 245.01) remains unchanged, but the 1992 ruling supersedes the law. Therefore, it is the ruling that makes topfreedom legal in New York State. (Please note that topfreedom is legal throughout the entire state of NY – not just in NYC, as the media will sometimes lead people to believe!)
There is one exception to the topfreedom law, which is that women are prohibited to be topless in public for commercial purposes.
New York's Topfree Pioneers of People v. Santorelli
The People v. Santorelli ruling is well-known for having established topfree equality, but the backstory of the case is not.
The battle to legalize topfreedom in NY started on June 21, 1986. Seven women, who later became known as "the Rochester 7," got together for a topfree picnic in the city of Rochester. This was a group of feminist activists who actually organized the event so they could get arrested. Their hope was to then sue the state in order to get the law changed.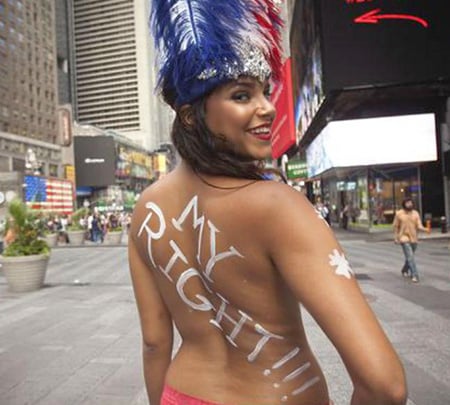 After they were jailed and charged under the Exposure of a Person law, two of the women – Ramona Santorelli and Mary Lou Schloss – filed a lawsuit against the state. Their suit argued that the current public nudity law was discriminatory against women and therefore unconstitutional.
It took 6 years, but in 1992, the case reached the highest court of NY — the Court of Appeals — and the judges ruled in their favor.
False Arrests For Topfreedom & How To Avoid Getting Arrested
Unfortunately, as mentioned above, the law itself (Penal Code 245.01) was not rewritten in 1992. So this fact, plus a lack of concrete information on the subject, meant that most police officers continued to enforce the public nudity law as they always had.
Since 1992, a number of women have been falsely arrested for being bare-chested in public (myself included!). Many of these arrests were made because the officers were ignorant about this issue and felt certain that it was an illegal act.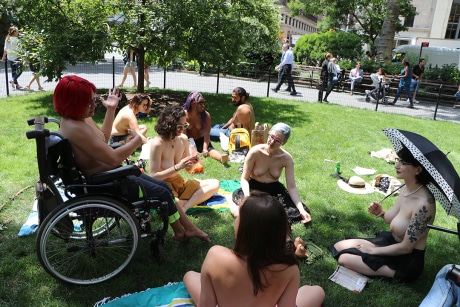 A number of falsely arrested women filed lawsuits against the city and were awarded settlements that varied from a few thousand dollars up to $40,000 (in the case of Holly Van Voast, who was arrested numerous times).
Finally, in 2013, the NYPD took decisive action to educate its officers about the legality of female toplessness. They issued a memo that was read in 10 consecutive roll calls to all 34,000 NYC police officers. The memo instructed that officers "shall not enforce any section of law, including penal law sections 245.00 (public lewdness) and 245.01 (exposure of a person) against female individuals who are simply exposing their breasts in public." It also reminded officers of the nudity exception in 245.01 that makes full nudity legal when it's part of an artistic performance.
Since then we at YNA have not heard of or gotten alerts of any false arrests of topfree women in New York. In NYC, it's finally become more widely known that it's legal. The Outdoor Co-ed Topless Pulp Fiction Appreciation Society still meets regularly in public parks in good weather and has not had any trouble from police in a few years. (Though people do still try to call the cops on them.)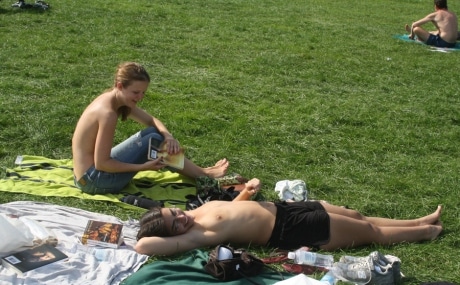 However, this past summer of 2015, the NYC media found another way to try and make female bare breasts a public issue. In a media-manufactured controversy, the NY Post reporters targeted the topfree painted women of Times Square, known as "the Desnudas." The Desnudas women are just one of many panhandler groups that take photos with tourists and accepts tips in return.
While aggressive panhandling is a real issue in Times Square, the media wrote about these women's breasts as if they were a huge threat to the public. The reporters even got NY politicians on board, and there were talks of a plan to get rid of the painted women.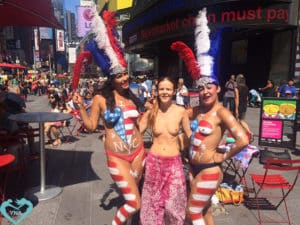 The almost-naked panhandling is a summer activity, so thankfully the media outcry has now faded and we hope it ends there. Since topfreedom has been legalized by the highest court, and panhandling is protected by the First Amendment, it seems unlikely that this would actually lead to new laws against women's topfree rights in NYC or NYS. But, you never know… You can read more about the legal aspects of topfree panhandling in this NY Times article.
For women who want to doff their shirts in public in New York, we'd still recommend printing out the memo below and / or court ruling and carry it with you. Should you be stopped by an officer who doesn't know the law, these documents can and should help.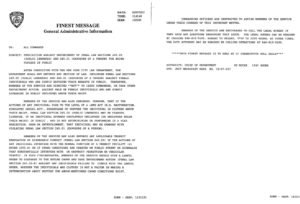 Outside of NYC, some women take the precautionary approach of contacting their local police department prior to a shirtless outing. This may be a smart move, especially in small towns that may have never encountered topfreedom before. By contacting the department women can find out if local police are aware of the law and how they will react to seeing a topfree woman in public. This also gives the police chief or head of the department the opportunity to be prepared and speak to their officers about it.
All that being said, unfortunately, cops may still arrest you for simply being bare-chested in public. If they do, then you have a pretty air-tight case (in NY State) and should look into the possibility of suing the local town / city for false arrest.
A partial list of women who have been falsely arrested or detained for being topfree in New York:
This is only a partial list that begins in 2001, and there are most certainly other cases of false arrest in NY that we haven't read about, both prior to and after that year. If you know of a topfree arrest case or story that should be included, then please contact me.
• In 2001, artist Amy Gunderson was detained by police in Brooklyn at the Coney Island Mermaid Parade while dressed in body paint and a thong. The NYPD asked her to cover up her exposed breasts and charged her with violating the Exposure of a Person law. The charge was dropped in court, and she filed a lawsuit. The city later settled for $10,000. [Read more at the NY Times.]
• July 11th, 2002: Two topfree women were arrested and jailed in Ithaca for violating the Exposure of a Person law. They were forced to sit in separate jail cells for over an hour before the Ithaca Police Chief apologized and let them go. [Read more at http://tera.ca]
• July 2003: Linda Marszalkowski wanted to go topfree in a park in Buffalo, but was told by police that she would be arrested, even after presenting them with the 1992 court ruling document. A few months later, the police department conceded that topfreedom was legal for women in NYS.
After this experience, Linda's boyfriend decided to call the local police departments of a few nearby towns to ask how they'd respond to a topfree woman in public. The answers, unsurprisingly, revealed quite a bit of ignorance, misconceptions and hostility towards the subject. You can read all his findings in a brief report at tera.ca. (*While this story isn't about an actual arrest, I included it as another prime example of bullheaded police acting on their own prejudice.)
• August 4th, 2005: Artist Jill Coccaro (also known as Phoenix Feeley) was arrested while taking a topfree stroll on Delancey Street in NYC. She was arrested, physically assaulted by the officers and forced to undergo a psychiatric evaluation at Bellevue Hospital. She sued the city and received a $29,000 settlement. [Read more at Gothamist.]
• August 11th, 2005: Four topfree women – Barb Crumb, Carol Clarke, Madeleine McPherson and Claudia Kellersch – were arrested during an ice cream outing with friends in Moravia, New York. (This coincided with the Northeast Naturist Festival at Empire Haven, and Claudia and Barb were then representatives for the Naturist Action Committee.)
The group included shirtless men, but the cops paid no attention to them. The women were falsely arrested under the Exposure of a Person law. They were taken to the county jail, finger-printed, had mug shots taken and were finally released about 6 hours later.
But their troubles didn't end there. It took 3 months and thousands of dollars in legal fees for them to get the charges dropped. This was because the District Attorney was dragging it out and trying to find something else to charge them with. [Read more at http://tera.ca]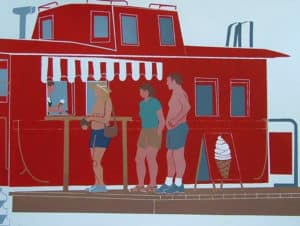 • In August of 2011, Felicity Jones (co-founder of YNA) was arrested for being topfree during an art performance on Wall Street. The officer told her she needed to be "mentally evaluated" and refused to listen when she tried to tell him that being topfree in NYC was legal (in addition to the fact that this was an art performance). She was held in the local precinct for a few hours and charged with disorderly conduct. The charges were dismissed in court. She then sued the city, which resulted in a quick $9,000 settlement.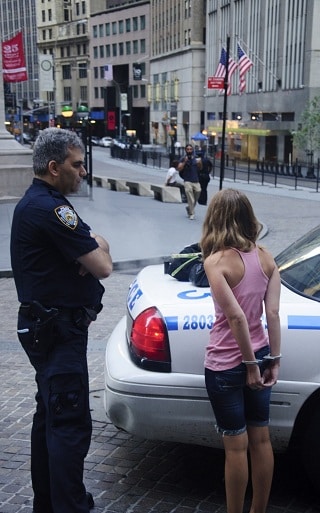 • Between 2011 and 2013, artist Holly Van Voast was arrested more than 10 times while topfree in NYC. In many of these arrests, she was involuntarily hospitalized for a psychiatric evaluation. In one 2012 arrest, she was committed for 6 days at a hospital psychiatric unit. With lawyer Ron Kuby she filed a lawsuit against the city of New York for 10 of her arrests. The city settled for $77,000, half of which went to pay her lawyers. [Read more at NY Mag and the Village Voice.]
• In 2012, topfree activist Moira Johnston was detained by officers for over an hour while walking around topfree in Union Square NYC. They released her upon realizing they had nothing to charge her with. [Read more at Gothamist.]
• Also in 2012, Jessica Krigsman was topfree and sitting on a park bench in Brooklyn when two officers approached and said she had to cover up. Krigsman tried to inform them that her state of dress was legal, but one officer responded, "Stop mouthing off." They arrested her, forced her shirt back on and held her at a precinct for 5 hours. They tried to charge her with "obstructing a sitting area" which didn't hold up in court. Krigsman filed a lawsuit against the city in 2013 (but we could not find news of the outcome). [Read more at Gothamist.]
This Topfreedom and Topless Law Guide for NYS was published by Felicity's Blog.