The Controversial Art Works of the Iconic Sally Mann
Sally Mann is a globally-renowned American photographer known for her startling depth and subject matter, which include both nudes and corpses.
Mann was born in 1951 in Lexington, Virginia. Her father was a doctor and her mother owned a bookstore. Mann graduated from Hollins University in 1974. She initially planned to be a writer and earned her masters in creative writing in 1975.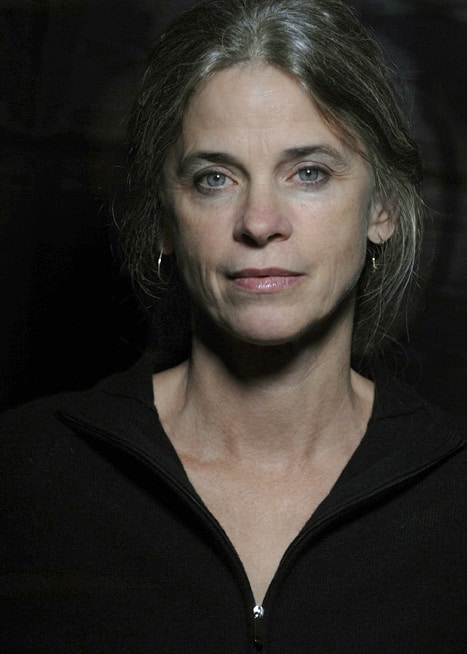 In a 2003 interview with Charlie Rose, Mann states that she abandoned her writing career because she found it "too difficult." She says that she found photography to be easier because "you have your subject matter in front of you," as opposed to writing that starts with a blank sheet of paper.
Mann is modest when it comes to her success and credits her "tenacious" attitude as the reason why she did so well.
For most of her early career, Mann was a stay-at-home mother who worked from a studio at her family's Lexington farm. Her children are now adults but she still works from the farm. She has worked in color but prefers black-and-white photographs.
In addition to human bodies, Mann is known for capturing Southern Americana and landscapes.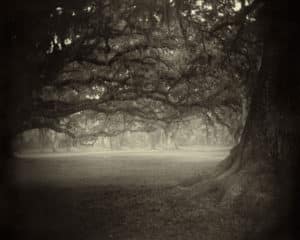 Sally Mann's photography studies began in high school in Vermont and continued through college. In the 1970's, she created series focused on portraiture, landscapes, still life and architecture. Her unusual approach and style quickly led to her first solo exhibition in Washington, D.C. in 1977. That same year, she created her first book, which contained architectural photographs from her hometown. Currently, Mann has 11 published books in print, including picture volumes and a memoir.
In 1992, Mann published her third and most controversial book called Immediate Family. About a quarter of the photos were of her three young children in the nude. She took most of these personal, intimate photographs as her children played and grew up before her eyes. One of its most famous photographs features her children clothed and became her first New York Times Magazine cover published on September 27, 1992.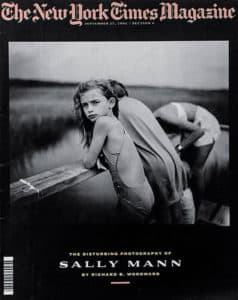 The cover story was written by Richard B. Woodward and titled "The Disturbing Photography of Sally Mann." It examined Mann's response to her skyrocketing fame and its origins in controversy. Children's advocates and religious activists slammed the book as exploitative of her children and even referred to it as child pornography. Mann also faced criticisms and insinuations of child abuse. In addition to her children's nudity, she published detailed portraits of their scars and injuries.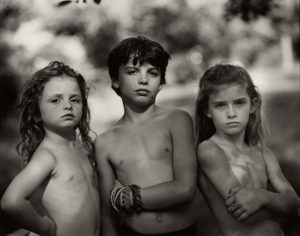 Mann's 2nd NY Times cover story, "Sally Mann's Exposure," was published on April 16, 2015. It was written by Mann and adapted from her forthcoming memoir. In this story Mann delves into the nuances of her work, the controversy that accompanied her career and offers an honest look at how it affected her and her family.
She writes about how she mishandled the interview with Woodward from so many years earlier. He played up the controversy and took her words out of context. Nevertheless, she says that article is part of what generated an "overwhelming response," both positive and negative, to her family book.
Mann was never arrested nor did she face legal charges stemming from her work. But it was certainly a possibility. Just as she published Immediate Family, the world was already riled up about children and obscenity in art because of Robert Mapplethorpe, whose latest show had photos of nude children and homoerotic imagery.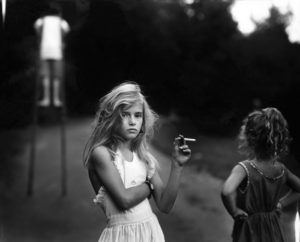 Then there was Jock Sturges, another photographer famous for his work featuring nude / naturist children. In 1990, the FBI raided his studio, confiscating much of his photos and equipment. He was accused of making child pornography and faced obscenity charges. After a very expensive legal battle lasting over a year, the charges were dropped.
For the 1992 NY Times interview, Woodward spoke to a law professor who had apparently been trying to get Mann to team up with him and challenge Federal child pornography laws. She could otherwise have her and her family's lives disrupted by Federal prosecution at any time, just like what Sturges went through.
Aside from legal and censorship concerns, Mann also had to worry about the safety of her children, as she was constantly reminded by the public and the media.
As she stated in multiple interviews, the Mann children were enthusiastic about being photographed and took an active role in making the images. The nudity wasn't a big deal to them. They were only concerned with looking like "dorks."
It was, in fact, the rest of society that made any of them feel bad about the pictures. In 1991, the Wall Street Journal published and censored one of the Mann's nude photos of her daughter without her permission. It was "Virginia at Four," and they put black bars over her body. The photo was part of an article about what kinds of art deserved government funding.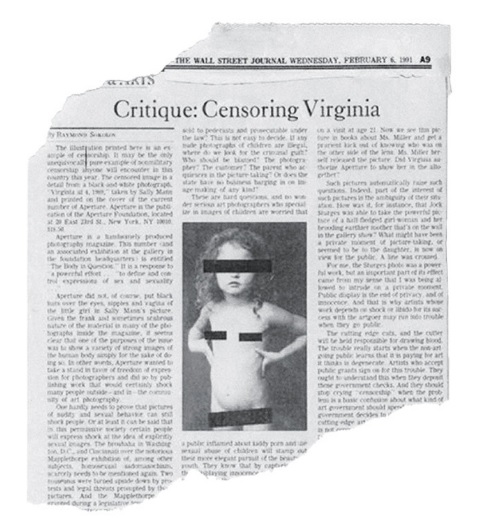 In her NY Times piece, Mann writes that the image made Virginia feel bad about her body and that she later wore clothes into the bath after seeing it. Sally considered filing legal charges against the WSJ, but decided it was not in her daughter's best interest.
But what about all the pedophiles in the world? Was there a real threat to these kids because of these published photos?
Unfortunately many people don't seem to realize this "threat" exists with or without nude art. Mann and her husband consulted a former FBI employee, Kenneth Lanning. He quickly pointed out that for everything that exists in the world, there's someone who can get aroused by it.
Lanning told them it was "improbable" that they or any other kids in their town would be visited by any pedophiles or molesters. By then Mann had already received hundreds of letters from the public about her book, some of them undeniably creepy. But there was one creepy man who came into their lives for a while.
This man sent disturbing letters of adoration and stalked the family from a distance for years. They had a deep fear of him showing up at their home or trying to kidnap the kids. She consulted a psychiatrist and police officer who advised them to have a shotgun ready and to be prepared to drag a body inside the house.
Mann says the stalker now lives overseas (and teaches children apparently!). In 2015 she spoke openly, for the first time, about this one disturbed man.
No doubt this revelation must make her vocal detractors feel like they were right all along about predators and her bad parenting choices. But these are people who mistakenly think censorship will magically make all the boogymen disappear.
Mann's life and work have been the focus of two documentary films. The first was Blood Ties, a 30 minute film that came out in 1994. It maintains a particular focus on Immediate Family's pictures and controversy. The 2nd documentary, called What Remains, came out in 2006 and centered more on Mann's artistic process. It also includes Mann's work-in-progress for Proud Flesh (Aperture & Gagosian, 2009), a wrenching portrayal of her husband's battle with muscular dystrophy.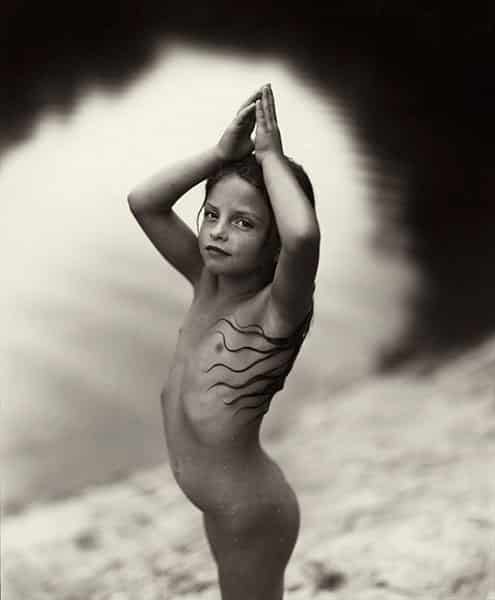 Both films premiered at Sundance and received nominations for film awards.
Mann's career honors include: a National Endowment for the Humanities Grant (1976), a Virginia Museum of Fine Arts Professional Fellowship (1982), a John Simon Guggenheim Memorial Foundation Fellowship (1987), a Whitney Biennial Participation at the Whitney Museum of American Art (1991) and three Individual Artist Fellowships from the National Endowment for the Arts (1982, 1988 and 1992).
In 2001, Time Magazine called Mann "America's Best Photographer." Among the many permanent collections to house Mann's photographs are New York City's Whitney Museum and the Metropolitan Museum of Art. Her 2005 publication Deep South (Bullfinch, 2005) complicated her image with its political and social justice scopes. She shot former slave plantations, Civil War battlefields and young African-American Emmett Till's lynch mob murder site.
Mann released her memoir Hold Still in May 2015. To celebrate the book, she again granted a rare interview to Charlie Rose on CBS This Morning. Her youngest daughter Virginia also appears in the clip when Sally is asked how her kids now perceive the work. Virginia explains that it was collaborative, and they were proud of it as kids.
As for her other children, Mann's eldest daughter Jessie has engaged in artistic photography and has posed as a nude model as an adult. Sadly, it should be noted that Mann's son Emmett committed suicide last year. He had been receiving treatment for schizophrenia.
The book won a Carnegie Medal and was a 2015 National Book Award Finalist in Non-Fiction. This time, Mann took a tongue-in-cheek approach to any pending scandals about childhood nudity: she published family snapshots of her young nude self and wrote of her "refusal to wear a stitch of clothing until I was five."