Hurricane Irma Wrecks Caribbean Islands and Club Orient Resort
Though many parts of Florida were bracing for the worst from Hurricane Irma this weekend, the storm seems to have caused the most damage to a number of Caribbean islands last week. This includes the island of St. Martin, where at least nine people died and Dutch officials said 70% of homes were damaged or destroyed.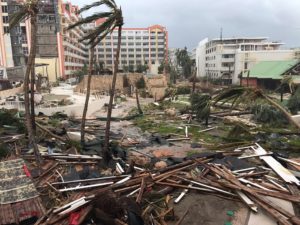 St. Martin is also home to a premier clothing-optional vacation resort, Club Orient. The large resort sustained severe damage to its property, facilities and 130+ rooms. A number of buildings were flattened, and Orient Beach (a clothing-optional beach accessible to the public) is gone.
One of the resort's unit owners sent out this report:
"Dear Shareholders,

It's ugly!

Steve and Bert just returned to GCBC from a visit to Club Orient.

Their findings include the following:
All wood units are gone. Presumably the slabs are left, but the buildings are gone.

Gatehouse is gone. In its place is a huge pile of debris that landed there from the winds.

Pedro concrete wall … gone

Concrete buildings survived. Roofs gone or damaged.

Except for the waterfront chalets 46-52 … They are gone. No sign of where they went.

The new beach goes from the water's edge back to where the studios used to be. It's about 200 feet.

Hurricane shutters on units left are gone as well as the contents of all the houses … presumably sucked out by the wind … no sign of where the furniture, cabinets, appliances, etc., went.

The units' contents have been stripped by the hurricane.

The villa is standing … no further detail.

Papagayo is standing but may not be sound structurally. All the contents are gone.

The utility plant is covered with debris so Bert and Steve could not get a close look at the generators, switch panel, etc. It looks like there was about 5′ of water in that area, which means salvaging the electric plant is in doubt.

The reception building is still standing. The front desk and other furnishings are gone.

The tennis courts are gone.

Steve and Bert drove through Orient Village where most of the buildings are standing but the contents of the first floors that they could see into are gone.

Looters beat Steve and Bert to the resort. They were clearing out the Boutique. We let them take the contents because presumably they need the stuff worse than we do!

I will continue to keep you updated as new information comes in.
Steve took about 100 pictures but has no way to transmit them until Internet service is restored.

According to Frédéric Lecomte, our Paris attorney, the French media are reporting that 95% of the island is destroyed.

We have a huge job in front of us. We will need a lot of out-of-the-box thinking to reinvent Club Orient … better than ever."
The resort's Managing Director Steve Payne and his wife were one of the many residents trapped on the island when the storm hit. He and his wife were sheltered in a hotel where the 2nd story collapsed. The two then took refuge in a bathroom. When everything had calmed down, they found they were barricaded inside by fallen debris but said they were able to push their way out with the shower curtain rod.
In an interview with a CBS network on Thursday, Steve describes their situation and also says he worries about the 132 people employed by the resort who will no longer have a job. You can hear an interview with Steve here: http://www.kesq.com/news/former-palm-springs-resort-owner-describes-hurricane-irmas-devastation-in-st-martin/617720771
Update: A reader pointed us to some photos of Club Orient after the hurricane: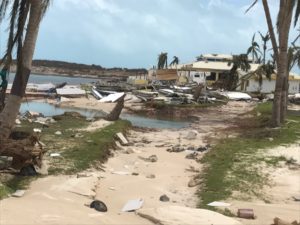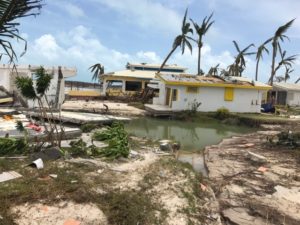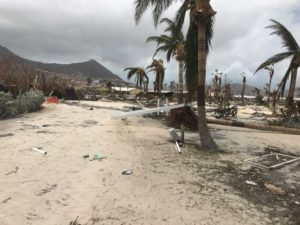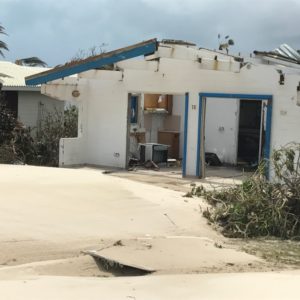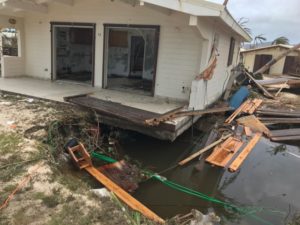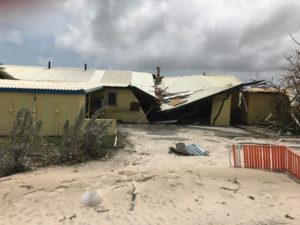 As if all this destruction weren't enough, all those stuck on the island had to worry about Hurricane Jose, a 2nd storm that came after Irma on Saturday.
As of Sunday morning over 1,200 U.S. citizens were evacuated from St Martin by U.S. military aircraft. It was estimated that some 5,000 Americans were on the island when Irma arrived.
In Florida, the Keys, Miami and Naples were all dealt the worst blow with damage and flooding. By the time Irma reached Tampa, it was a category 1 tropical storm and thus did not inflict as much destruction as people thought it would. It was reported that about a dozen homes were damaged by fallen trees.
At least a few nudist resorts in Florida closed up for a few days to wait out the storm. Millions of residents are without power and Internet so we shall wait and see what sort of damage has occurred to these places. However given the overall reports about Irma, it seems like none of them would've been too badly hit. If we get any updates we will post them here.
We hope all those that have been affected by this hurricane, or will be affected, are safe and well. Our thoughts are with all the survivors, especially those in the Caribbean islands, Puerto Rico and Cuba.
What happened to Club Orient is a sad state of affairs, and we sincerely hope they can renew themselves and rebuild.
UPDATES September 15, 2017:
Help Club Orient employees! Nancy Tiemann, owner of Bare Necessities, has launched a GoFundMe campaign to raise money for the employees of Club Orient, who are still without resources, food and electricity. Donate here! : https://www.gofundme.com/Hurricane-Relief-for-Club-Orient
News about other resorts / nude beaches:
Lake Como (Lutz, FL) had their electricity restored as of September 15th. They reported some flooding, but otherwise had no damage to the resort. It might be a few days before they can reopen the pool, hot tub and bar.
Sunsport Gardens (Loxahatchee, FL) had no damage apart from a lot of fallen trees and palm fronds. No flooding, and no one was hurt. Their electricity came back after just a few hours.
Sunny Sands (Pierson, FL) reported they had just some fallen trees and fences. They are still without electricity or water.
Cypress Cove did well through the storm and just had some fallen trees. A few of them "grazed" people's homes. They had no power for a few days, but it's since been partially restored. They're waiting for the rest of the resort to power back up.
Haulover Beach (and the whole Haulover Park) is currently closed until further notice. There is still a lot of debris to be cleaned up.
Club Fantastico is another clothing-optional resort located on St. Martin and must have suffered the same fate as Club Orient! We don't have any specific news about it but will update here if we find out anything.
If you're looking for general ways to help with Hurricane relief efforts, here you can find a list of organizations to donate money to: https://www.usatoday.com/story/news/nation/2017/09/11/hurricane-irma-how-you-can-help/653373001/#
There is also a GoFundMe campaign by the SXM Festival specifically for the island of St. Martin, and it's sanctioned by the St. Martin tourist bureau: https://www.gofundme.com/rescuesxm