Guide To Naked Activities, Nudism & Nudist Groups in NYC
I get asked all the time about naturist activities in New York City or nearby, especially in the off-season months. Unfortunately there are no official nudist places within the 5 boroughs.
So how else can one get naked here and connect with other nudists? This is my nudism guide to local NYC naturist groups, naked events, nude classes and more! Also, see my roundup of 2018 naturist and naked events happening around the U.S. and Canada this summer.
In part one, I list the closest outdoor places including nude beaches and nudist clubs. In Part 2, I cover all the indoor options.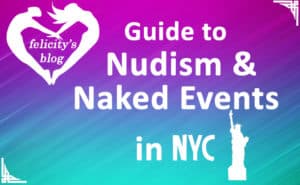 Part I : Nude beaches, nudist clubs and getting naked outside.
NUDE BEACHES: Since Lighthouse Beach was closed to nude use, Gunnison Beach in New Jersey has become the main nude beach destination for New Yorkers. It's located on Sandy Hook, which is accessible by car or a short ferry ride from Manhattan.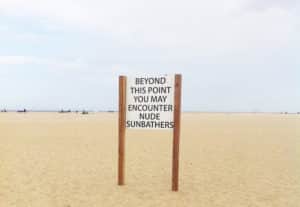 There are also two clothing-optional beach areas Fire Island: Cherry Grove and the Pines. These beaches are part of well-known gay communities, and (so far) the NY anti-nudity law is not being enforced here. To get there, you have to park on the mainland and take a ferry.
NUDIST CLUBS: There are three clubs in northern New Jersey – Rock Lodge, Goodland Country Club and Sky Farm. These clubs are all within a 1-2 hour drive from NYC and only accessible by car. Rock Lodge is a family-oriented, co-operative club and Goodland is privately owned. Both clubs are inclusive and welcome everyone. As for Sky Farm, please note that if you are a single male, you might not be able to visit or join (although they may have changed their visitor policies by now).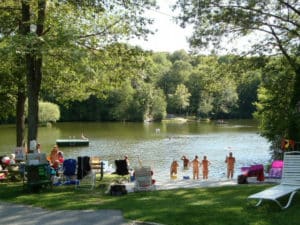 There's also Juniper Woods in the town of Catskill, New York. It's a 2.5 hour drive from NYC or you can take a train to Hudson, NY and arrange with the club to be picked up from there.
SKINNY DIPPING PLACES: In the area of New Paltz, NY there are two great skinny places. One is a legal, official area in the Mohonk Preserve. The other is an unofficial spot known as the "nudist pool" in Stony Kill Falls located in Minnewaska State Park. **Summer 2018 Update on Stony Kill Falls: After doing some reconstruction of the trail in 2017, it looks like a ranger will now be patrolling the whole waterfall area and main trail on weekends. This will most likely eliminate the possibility of skinny dipping at the big pool up above the waterfall, and one ranger told us he would stop this activity if he saw it. You can likely still skinny dip at one of the pools located further up the unofficial trail on a weekday (non-holiday) when it's quiet. This part of the trail is technically still "closed for restoration," but it should still be doable on a weekday with only a small number of people.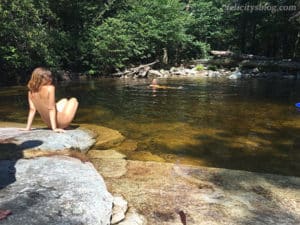 Part II : Local nudist groups, indoor events and more in NYC.
SOCIAL NUDIST GROUPS
The Long Island Travasuns – The Travasuns are a longstanding, co-ed nudist group that hosts clothing-optional monthly swim parties and other events on Long Island and in Queens. The monthly parties take place at a spa / gym in Wantagh, Long Island. This venue has a pool, hot tub, sauna, steam room, bar, dance floor and more. Other activities usually include naked yoga and volleyball games.
To get there: It's about an hour's drive from Manhattan, and you can also take a train via the Long Island Railroad if you arrange for pickup at the local station. For more info on this and other events they host, visit their website at http://travasuns.org.
"Nude" — This is a nudist group that started 2-3 years ago in NYC, and at first it was just for men. Now they organize different workshops and events, which can be for men only or co-ed. You can check them out at https://www.meetup.com/nudeevents/.
Go Naked – This is another new social group that caters to men, but has also organized all-gender gatherings. Events take place in NYC and Philadelphia, and include naked dance / bar socials. More info at www.gonaked.co.
Males au Naturel (MAN) – a social nudist group just for men that's been around for many years and still regularly organizes events in NYC. Most of their members identify as gay or bi, but men of any sexual orientation are welcome. More info at http://man.shuttlepod.org/
Naked FITNESS CLASSES
Naked personal training sessions – A personal training business called Hanson Fitness started offering naked fitness classes at one of their gyms in NYC. Their last class was one hour long and described as a "total body workout." The downside is they allow people to wear "nude underwear" if they want to, which negates the whole idea of it. But if you're interested in attending a class like this, contact them at their website hansonfitness.com or see their Facebook page (events section) facebook.com/HansonFitnessNYC/.
Naked yoga – Check out my guide just for naked yoga classes in NYC!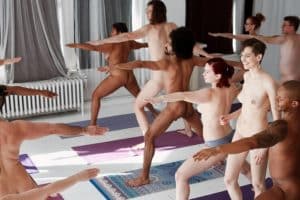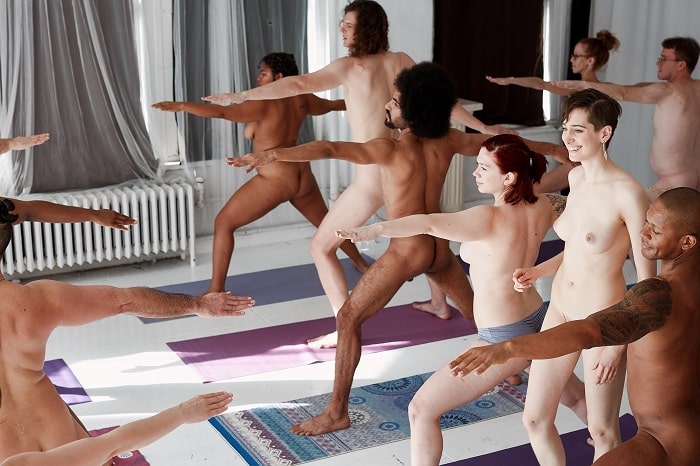 NuDance – naked dance classes in NYC. Learn more at https://activenaturists.net/nudance/.
NAKED SPAS
There are a few nude spas in NYC, though ALL of them gender-segregated and not co-ed. One of the biggest is a Korean place called Spa Castle, and you can read my review of their Queens location (coming soon). They also have another location in Manhattan.
Other nude spas you might want to try:
– Russian & Turkish Baths (Manhattan / East Village) – old-school bathhouse that has all-male and all-female nude days. (Non-nude during co-ed hours.)
– Juvenex Spa (Manhattan / Koreatown) – clothing-optional for women during daytime hours.
– New York Spa & Sauna (Flushing, Queens) – Korean day spa with gender-segregated nude bathing areas.
(If anyone has been to these places or other nude spas in NYC, your feedback is welcome in the comments! Or you can contact me.)
NAKED EVENTS AND SHOWS
The Naked Show – This is a late-night event where naked comedians perform stand-up, and the audience is also invited to strip down after the show begins. It has previously taken place at The Creek & The Cave, a bar in Long Island City, on the occasional Friday night.
This show is currently on hiatus, but I am told it will be coming back! To stay up-to-date, "like" / subscribe to the Facebook page.