A Social Media Guide For Naturists, Artists and Anyone Who's Tired Of Their Nudes Getting Censored
As a naturist, my problems with censorship and social media are never-ending and I know many in my community can relate. I'm currently in Facebook jail, yet again, for posting nudity. I've had photos censored on Instagram, videos banned from YouTube, and my Pinterest account was even deleted without notice or warning.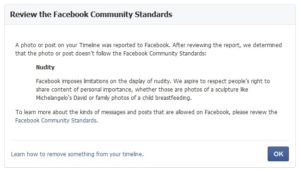 Most of the major social media sites have rules against showing nudity and female nipples. They either ban it altogether or say it's allowed in specific instances (like in certain types of art or photos of breastfeeding). Trying to follow social media guidelines can be maddening. They're intentionally vague and can be enforced by other users who report content. To make matters worse, many of these social networking sites don't even follow their own rules when removing or leaving posts. The end result is anarchy and an arbitrary approach to censorship. I have previously discussed these issues in detail in regards to Facebook and YouTube.
As most of us don't want to quit social media entirely, we basically have two options — 1. censor ourselves in using the big sites and 2. join other networks that won't kick us out because one of our photos showed a hint of someone's butt crack.
So I've compiled a list of the best social networks that are much less restrictive when it comes to nudity and other material. Unfortunately, I must note that for every major player like Facebook, Instagram or YouTube, there isn't one single site that can serve as a replacement. This is because many of the smaller social sites don't have all the same features or user base. This can change though, especially as more people get fed up with the big companies and start supporting the smaller ones.
Before we get to my list, there are 3 other things to note:
1. I discuss many sites here but this not a comprehensive list. There's a myriad of other smaller social media sites out there that are said to be anti-censorship. If you use a site not listed here, and you think it deserves attention, feel free to discuss it in the comments section.
2. Content filtering and censorship – Many of the mainstream public networks use a flagging system / filter for what they call "adult," "NSFW" or "sensitive" content. This category always includes nudity along with "sexually explicit" material (as if they're one and the same). The filter shows up as a user setting so if people don't want to come across this type of content, they can switch it on. One obvious problem is that there's only one filter so you can't choose to allow simple nudity but not porn. Another problem is how the content filters operate as a form of censorship. User accounts or media that has been marked as NSFW will typically get hidden from public searches and may even require a log-in and change in settings to view it. Another issue is that the filter can be switched on by default, with users being none the wiser. So while these companies aren't deleting every form of nudity (which is much preferred over total censorship), they are suppressing it based on their own standards of what's "appropriate" for public viewing. Many companies claim that the filter is for user "safety" or to help users navigate content, but in practice I don't think it works that way. So in this social network list, I've included info on nudity content filters and how they work on the sites that have it. I also wrote more about content filters in a previous blog about Ello.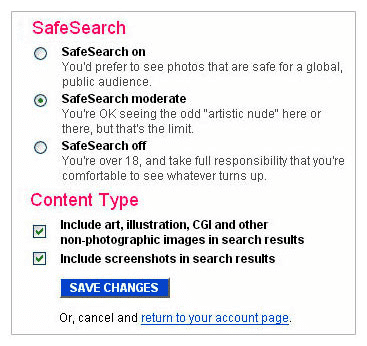 3. What about privacy? – In the wake of Facebook's data scandal, online privacy is again at the forefront of social media issues. Over the last few years some enterprising people have been inspired to create social networks that protect user privacy and don't rely on targeted ads or the selling of user's personal data. If user privacy is a big part of a network's ethos, I include that below. Otherwise I don't bring up privacy with every site because this article would be too long! I encourage you to research and read a site's TOS and privacy policy before signing up.
Let's start with Mainstream Alternatives to Facebook:
MeWe and Ello are two social networks that just launched in the last few years. Technically all the networks listed here would be "Facebook alternatives," but these two sites offer the most features similar to FB. They're both ad-free, and therefore they do not rely on advertising for revenue. This distinguishes them from other social media sites in two important ways – one, they're not collecting your personal data in order to sell targeted ads, and two – it means less censorship because content guidelines won't be written with advertisers in mind.
Here is a more detailed overview of MeWe and Ello:
MeWe is a newer social network that officially launched in 2016. It was created by Mark Weinstein, a tech entrepreneur and "leading privacy advocate." The site is meant to be an answer, or the answer, to our privacy woes with Facebook and other social media. It boasts itself as the only social network with a "Privacy Bill of Rights" for its user base. This contains lines like "Permissions and privacy are your rights. You control them," and "We're a private network. That means we do not track or profile you." Instead of a business model based on targeted ads and mining personal data, MeWe's website says they get revenue from optional paid features like extra cloud storage, custom emojis and a pro service for businesses.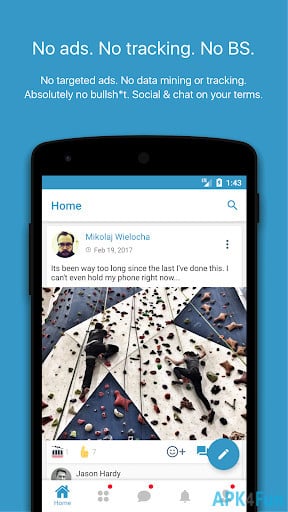 The company's official blog is almost entirely focused on these privacy issues. There they discuss the latest news on how other companies are stealing your data and what you can do about it. They also have a few blogs that delve into the topic of censorship.
I know that many people have hesitated to use Facebook for online naturist communities because they feel like Facebook is too public, and they don't want to share their interest in naturism with all of their FB "friends." In this case, I think MeWe is the best alternate site for naturists who want to be on social media with privacy control.
So what about MeWe's censorship policy? Well, it's pretty vague. They state that you are "free to be your uncensored self within the framework of the law" and then say they prohibit "obscene" and "pornographic" content without defining those terms or offering examples. However, MeWe's founder has promoted it as being anti-censorship, and every naturist I know who's joined it says that they don't censor nudity. (Though I still sent in a support request asking for official confirmation of this and will update when / if I get a reply!)
What sets MeWe apart from any other social network right now is that it can truly provide a viable alternative to Facebook. It's free and has a lot of the same functionality. You can create your own user profile, contacts, news feed, events, private and open groups, private chat and there's an app available for iPhone and Android. In the Apple Store, at this time of writing, MeWe is ranked #37 for social media apps, and of those other 36 apps, it's the only one that offers all these features in one place (besides FB).
Pros:
Anti-censorship and does not censor non-sexual nudity at all (at least so far)
Lots of features similar to FB.
Ad-free and offers users a "Privacy Bill of Rights" ensuring that they do not collect and sell personal data.
Already being used by many naturists and has naturist groups (although most are by invite-only).
Cons: (I just joined the network recently but I can name a few.)
Vague guidelines about what kind of content is not allowed.
Unless you're members of the same group, you can't privately message someone if they're not your "friend." This is especially annoying when receiving friend requests from people you don't know know or recognize, or when you want to reach out to someone you're not friends with.
Since the network is totally private, content or profiles cannot be made public to share with non-users. No public fan pages.
Notification settings are very limited.
Ello
When Ello came on the scene, I actually had hopes that it would become a real Facebook replacement. But alas, it's just not built that way in terms of functionality.
Ello calls itself "The Creators Network." It was developed by artists, for artists. So it's geared towards visual content, encouraging users to upload large high-res versions of their work that will take up most of your screen. It resembles Instagram or Pinterest, where profiles are like a grid of images, but it's also like Tumblr in that you can easily share or repost others' images to your own profile. There are no groups, no events and no chat or private messaging.
What initially attracted me to Ello was that it's a Public Benefit Corporation that legally can't show paid ads or sell user data, and it's anti-censorship. Simple nudity is fine and welcome. However, Ello has "NSFW" filter for nudity and sexual material. It's in the user settings to turn on or off. Users posting this type of material are expected to flag their own profiles as NSFW. There are no specific guidelines or examples given for what counts as NSFW and there is no option for filtering out porn only. Ello's website also states, "Apple iOS rules block the sharing of NSFW content through iOS apps. Accounts & posts marked NSFW will not appear in search results on the Ello iOS App but will appear when using Ello on the web." (Read more in my article about Ello and you can follow me on Ello @youngnaturists)
Pros:
Supports artistic expression, anti-censorship and makes it clear that nudity will not be censored.
As a PBC (Public Benefit Corporation), it's ad-free and does not sell user data.
Supports hashtags, emojis, gifs and makes it easy to re-post and share other users content.
Cons:
Accounts with nudity must be marked NSFW and may not appear on the Ello iOS app (also, there is no Android app for Ello).
Your profile / content can be made totally public or invisible to non-users, but there's no option to only share with approved followers.
Not many naturists currently using it.
No chat / private messaging, groups or events.
Best Mainstream Alternative to Instagram:
Flickr is said to be the best alternative to Instagram for social photo sharing. It was just acquired by SmugMug a few days ago after being owned by Yahoo, and so far it doesn't seem like anything significant will change because of this. Flickr is available on desktop or on a mobile app. It offers basic photo editing tools, including filters. You can choose your privacy level for whatever you upload, and you can choose the licensing. You can also "follow" other users, create groups and interact with content by giving it a "fave" (equivalent of a "like"), commenting or sharing it.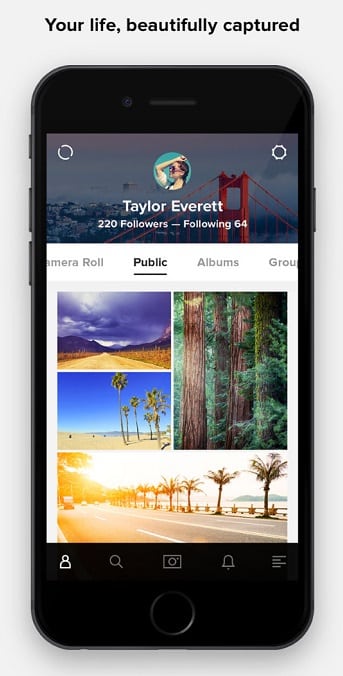 As for their content guidelines, Flickr allows nude photography, but has 3 levels of filtering: Safe, Moderate and Restricted. Safe is supposed to be suited for a global audience, Restricted is for any material that's inappropriate for children, and Moderate is supposed to represent somewhere in between. They further specify these categories by saying "bare breasts and bottoms" would fall under Moderate, and full frontal nudity has to be "Restricted." Flickr has a "SafeSearch" setting for users that means only "Safe" content will show up in search results. This is turned on by default, and you can't turn it off unless you create an account.
As of 2015, Flickr has over 90 million registered users and 3.5 million photos uploaded daily. They rely on users to correctly categorize their photos and report other users' photos if they should be Moderate or Restricted. If you get reported, someone at Flickr may review it. All of this really means that the rules are going to be applied unevenly, based on what certain people think is inappropriate on any given day.
These rules and restrictions don't exactly make Flickr a cool place for naturists. If you're trying to share your nude images publicly (with all users and non-users), it's probably not the best option. But despite the filtering, naturists do use it, and it can provide an easy and fun way to share your photos with a community.
Official Naturist Social Networks
There are a few social networks out there created just for naturists / nudists. Unfortunately these sites tend to be clunky, not very user-friendly and don't have mobile apps. Nonetheless they can be useful for meeting and interacting with other naturists.
-TrueNudists https://www.truenudists.com/ – This one has been around for a long time and calls itself the "largest social network for nudists." It does probably have the biggest user base of any of these nudist sites. It has a lot of features like FB — user profiles, photos, groups, chat, forums. You can even join and login using your FB profile. It offers a "certification" system where people upload photos of themselves holding a TN picture so that it's easier to gauge who's real and who's not.
Cons:
The biggest complaint I hear about TN is that there are way too many pervs who behave inappropriately.
Its marketing is heavily focused on photos, especially photos of young pretty "sexy" women.
-Naktiv (name derived from "naked" + "active") https://www.naktiv.net – a free social network launched around 2013 and designed by a naturist / naked hiking enthusiast named Richard Foley. It's meant to be a social media alternative for anyone that wants to be naked online. The site has grown to over 13,000 members and has the usual social network features – personal profile, photo galleries, messaging, groups, events and blogs.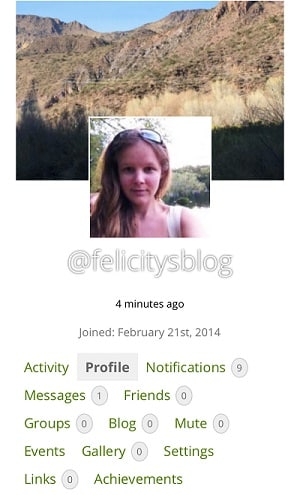 Cons:
The site is awkwardly designed and a bit confusing to navigate. It's a labor of love, however, and it's free, so if you like it and want to see it improve, you can make a donation.
The content rules are unnecessarily restrictive. As you might expect for a naturist site, pornography / sexual or lewd material is prohibited. That said, they also restrict "boring" naked selfies and photos where a person's genitals are the focal point. While I don't particularly care for bad selfies, I also don't see the point in censoring them.
-Free Nat Book – This is another free Facebook alternative for naturists that just launched this past winter. It was created by a naturist in France, and many of the users are French. You can get an English version of the site, but much of the text will still appear in French. It's designed to look a lot like Facebook, which I don't personally like, but if you're a FB user then I suppose that'll make it easier to navigate. If you join, don't expect to find a ton of activity here because it's still so very new! Check it out at https://www.freenatbook.com/index.php?lang=english.
-Two additional naturist sites to check out: Zerokini, a naturist social network in France www.zerokini.com and Naturist Corner, a forum at www.naturist-corner.net
-Dating sites: Just a reminder that there aren't any legitimate nudist dating websites. If online dating is what you're looking for, I suggest using the same mainstream sites everyone else uses.
Nude-Friendly Video Sharing Platforms
YouTube has become a terrible platform for so many reasons. It's difficult to avoid it if you want to reach the biggest audience because no other video platform comes close to its size. Vimeo has 170 million users, which may sound like a lot, but this is less than 20% of YouTube's user base.
Nevertheless, Vimeo is the go-to alternative for naturists and anyone experiencing censorship on Google's YT. It's a decent user-friendly platform that's much more supportive of artistic expression. In 2016, when YT came under fire for de-monetizing videos that weren't "advertiser friendly," Vimeo championed freedom of expression with a list of their best "advertiser-unfriendly" videos.
Vimeo is ad-free and free to use with a limited amount of storage. (Paid subscription plans offer more storage space.) Their guidelines state that they allow "artistic and non-sexual nudity." They use a filter for "mature" content, which includes "nudity, violence, profanity, or illegal substances." So if you upload a naked video, you're supposed to categorize it as "mature."
Live video broadcast platforms? : There are a number of mobile apps out there now for streaming live video from wherever you are to a public audience online. The Periscope mobile app may be the only one suitable for nudity. Their content guidelines say they don't allow porn or sexual nudity, but "Nudity that is intentionally artistic, educational, or associated with newsworthy events may be acceptable." I have previously used Periscope myself to do a live stream from naked body painting events. But if, for example, you're trying to do a live stream of nude sunbathing in your backyard, this might get censored.
Other Mainstream Social Media Sites:
I consider these sites to be more for sharing content, having discussions and networking publicly, rather than sharing your private thoughts / images with a select group of friends. You CAN be more private if you want to, but you'll have to explore the settings and limitations of each site.
Twitter – Twitter has always been one of my preferred social media sites, and a lot of nudists use it.
Twitter doesn't ban nudity but has a content filter for "sensitive media." As per their list, this can include nudity, porn, graphic violence and "hateful imagery" (like symbols of hate groups). The filter can apply to individual tweets or entire accounts. If you tweet nude photos, you can indicate in your settings that you share 'sensitive media.' You could also make all your tweets private and set it up to approve all your followers. Another important guideline for nudity is that you're not supposed to have it in your profile photo or header photo, which I find annoying. I see dick pics as profile photos all the time, so clearly it's not well-enforced.

Tumblr – This is a free blogging site and many naturists have used it to start blogs. They have long been host to porn blogs as well, so simple nudity is certainly accepted.
They do filter and flag content in a way that naturists won't like. Users are expected to flag their blogs as NSFW if they regularly post "adult-oriented" or "sexually explicit" material, and this includes simple nudity. My tumblr was permanently flagged as "explicit," which I resent just for the use of that word alone. The NSFW flag also means users have to log in and turn off safe mode to see it. All NSFW blogs are probably suppressed in Tumblr searches and won't come up in general public search engines.
Individual posts may also be marked as "sensitive," and the guidelines say "Some examples of sensitive content might include nudity in an artistic, educational, or photojournalistic context." Gotta love how they say "examples," plural, and then just cite nudity!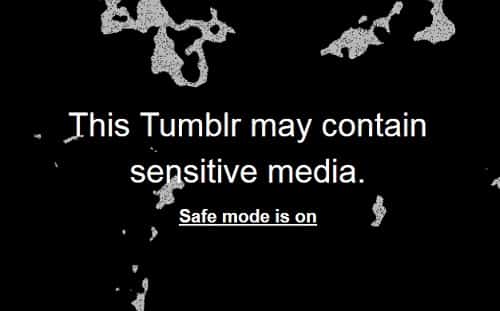 Reddit – A lot of people don't understand Reddit so I will try to explain it briefly… Reddit calls itself a "platform for creating communities" because it's made up of thousands of "subreddits" devoted to all different kinds of topics. Subreddits are created and moderated by users, and you can customize your Reddit experience by subscribing to ones that interest you. The most popular one for nudism is here: https://www.reddit.com/r/nudism/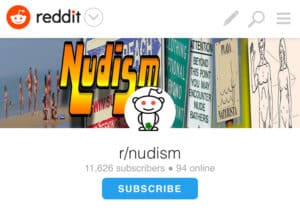 Reddit is a pretty open place, and nudity is permitted on the site. It has a filter for NSFW content and asks users to tag "nudity, pornography or profanity" as NSFW. You can tag individual posts or entire subreddits.
Meetup – If you're not familiar with it, Meetup is a website for starting a local group and coordinating events based around a specific interest. Groups can have online discussions, but Meetup is meant for creating in person events. Anyone can start a group, but you do have to pay a subscription fee to be an "organizer." Group members can join for free. I have recommended Meetup.com to people looking to start a new naturist group in their area. Many naturists use it to form a community and coordinate local events or hangouts. Since all Meetup members can use the site to find new local groups, you have the potential to reach people that would have never otherwise discovered your group or naturism, period. (Though I must say this with the caveat that Meetup has its fair share of weirdos in my experience. So bare in mind that you may not get the quality of people that you'd get with other forms of outreach.)
The site definitely has no problem with naked social groups, but… I'm not sure about posting nude images to the site. I bring this up in part because it's common for people to want to share post-event photos with their Meetup group. The site's guidelines state, "Nude or sexual photos are not allowed in public spaces." If nudity is part of your group's identity, it says "organizers must keep the group Private in order to limit access to this content to members of that group. Meetup expects leadership teams to monitor this content." So if you want to allow naked pics, just make your privacy settings so that this content can only be seen by members. I personally have never had a problem with nude photos when using Meetup. (If you've had a different experience on Meetup, feel free to share in the comments!)
Snapchat – Snapchat is unlike any other network here because of its ephemeral content (and because it's only accessible via a mobile app). Any videos or photos that you post to your "story" will automatically disappear in 24 hours. And of course you can send a photo to specific people and have it disappear after a few seconds. When Snapchat came out it was known as a fun and discrete tool for sending nudes or sexting your bf / gf / lover. But a lot of people enjoy sharing / sending disappearing content, which is why it now has 170+ million users, including major brands. This is also why other social networks have tried to copy its features (like Instagram's "stories"). Snapchat is still a place where you choose your own audience. You can post nude photos to share with all your followers or with a select few. People can find you by phone number or username. Snapchat's guidelines say they prohibit accounts that distribute pornography, but "Breastfeeding and other depictions of nudity in non-sexual contexts are okay."
Social media sites that definitely censor nudity:
Facebook
Instagram
Pinterest
YouTube
Google+ (Naturists have reported that nudity is fine in private groups on Google+. I still would not recommend the network because I do not trust Google with my content or my privacy, and don't think anybody should.)
Streamable
Update: MySpace – I looked up the MySpace guidelines fully expecting to see a rule against nudity but instead found a statement about them allowing "tasteful nudity" and how they want to be more "lenient" with artists that deal with the human form. This means that nudes are subject to their idea of what is "tasteful" and what is "good art," so until they come out with a stronger statement than this, I'd say it's not a recommended network for naturism or naked art.
What do you think, readers? What site do you use for online naturism, sharing nude photos or naked art? Share in the comments!