Call To Action: Sign These Petitions and Help Establish Two New Clothing-Optional Nude Beaches in Florida
With its ideal climate, over 1,000 miles of coastline and a huge tourism industry, you would think Florida State would have a lot more official clothing-optional beaches than it currently does. Not only is its environment conducive to nudism, but Florida law expressly states that public nudity is legal "in any place provided or set apart for that purpose." Florida case law has established that nudity becomes a crime when it involves "lascivious" behavior, and simple nudity is not a violation.
But Florida has just eight clothing-optional beaches, most of them unofficial (and one is only accessible by boat). Establishing a c/o beach is no easy feat, even when the law is on your side, and then maintaining the c/o status requires work and vigilance, as it can so easily be taken away by those in power. (You can read SFFB's history of what it took to establish and protect Haulover Beach, the state's first official nude beach, in their March and April 2017 newsletters.)
There is plenty of coastline available to designate for both clothed and clothing-optional use in Florida, and there is also a solid argument to be made for how c/o beaches bring in tourism dollars and benefit the economy. More research needs to be done on this, but the B.E.A.C.H.E.S. Foundation estimates that Haulover Beach alone generates over $1 billion per year. The beach gets hundreds of thousands of visitors annually.

And from the 2015 Naturist Education Foundation poll, we know that 70% of Americans approve of setting aside land for clothing-optional use!
Now, with the work of local naturist advocacy groups, in alliance with the B.E.A.C.H.E.S. Foundation, Florida stands to gain two more official clothing-optional beaches in the near future. But they need your help!
Both of these campaigns have online petitions, which you can sign no matter where you live. And seriously, how sad is it if we can't get a few thousand people to sign an online petition? How are we supposed to portray ourselves as an actual significant population that cares about these issues, or furthermore as a forced to be reckoned with, if we can't demonstrate our numbers with a simple petition? We know there are way more than 10,000 of us in the U.S. alone!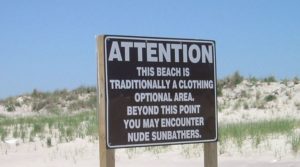 You may not live in Florida or travel there, but don't think that means that the success of these campaigns won't benefit you. The more campaigns we win and the more nude-friendly places we have, the easier it will be to establish more c/o beaches in other cities and states.
So please SIGN and SHARE these petitions using the links below, donate if you can and learn more below about these beach campaigns. You can also help by volunteering or becoming a member of these groups as well as of South Florida Free Beaches (SFFB).
1. Tampa Bay – Tampa Area Naturists (TAN), a non-profit advocacy group, has renewed their efforts to designate a new naturist beach in the Tampa Bay area. Last year they re-launched their online petition for this purpose and reported that they've obtained a lobbyist in Tallahassee.
TAN has identified two excellent locations for an official nude beach – Honeymoon Island State Park and Caladesi Island State Park (though they note that they are "open to other suitable locations at county or municipal beaches"). These are two state-owned parks located in Dunedin, FL. But there is one obstacle in their path – as an exception to statute 800.03 described above, nudity is currently prohibited in Florida State Parks due to an administrative rule.

The rule can be amended, but to make this happen, TAN needs at least 10,000 signatures on their petition. They are currently at a little over 3,600. So if you haven't already, please SIGN THE PETITION. It only takes a minute, and you can even do it anonymously by using a different name. You can also donate to their fundraiser.
Then share this petition with your friends and on social media! Here is a shortcut link: https://tinyurl.com/tandip
TAN also says that printed and signed petitions carry more weight, and on their website they provide a petition form that you can print, fill out and mail to them.
2. Palm Beach County – Palm Beach Naturists is a non-profit group seeking to designate a clothing-optional beach in Palm Beach County. They have an online petition with close to 250 supporters and are aiming to reach 1,000.
If the County Commission doesn't take action to make this happen, PBN says they are going to put up signs to designate a beach themselves.
PBN has identified several locations for a c/o beach, one of which used to have an unofficial nude area for decades. This was "Air Force Beach," which is now part of MacArthur Beach State Park. In 1980 it was reportedly the largest c/o beach in the United States. But nude use ended in the 1980's, and it was almost paved over for commercial development when Palm Beach County and Florida State acquired ownership of the land. Today the beach doesn't see many visitors at all. Unfortunately this would be one of many examples of the government taking away a nude beach once visited by thousands of people a year. You can read the full history of this beach at Treasure Coast Naturists.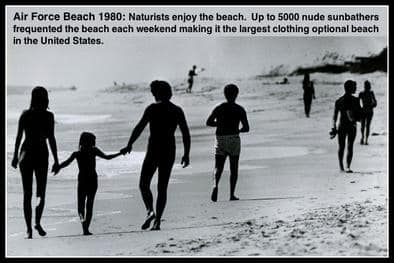 Take action: SIGN PBN's petition (please note you can make up a street address if you don't wish to put in your complete address). You can also donate or sign up to volunteer on their website www.palmbeachnaturists.org. On April 11 in Boynton Beach, FL, attend a public discussion with PBN and its board members about their plans for a c/o beach.
This post about establishing two new clothing-optional nude Beaches in Florida was published by – Felicity's Blog