Where to Find Naked Yoga Classes in NYC
Naked or Nude Yoga Classes and Schools in New York City:
Naked Yoga NYC Guide – People often ask me what nudie activities they can pursue in NYC, aside from events. Well one of those is naked yoga! What better way to practice mindfulness and get in tune with your body than with naked yoga? Yoga has been increasing in popularity across the country, and naked yoga classes are becoming more common at nudist clubs. It's a nice throwback to the old health-and-wellness tenets of naturism.
In NYC there are studios everywhere, offering all different kinds of yoga. Luckily for us there are a few classes for naked yoga as well. Here is a short guide to naked yoga classes offered in NYC.
Note: Since I originally wrote this article in 2015, a few of these classes have been discontinued. As of this May 2018 update, only Naked in Motion and Nude York Yoga are offering regular group classes. Below you can read more about these two, as well as my original reviews of the other classes.
Naked Yoga School and Classes In New York City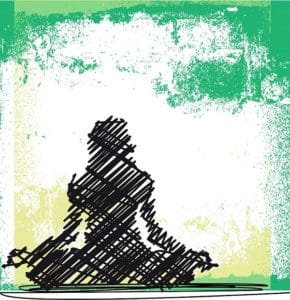 Naked in Motion: Nude Yoga and Pilates
Naked in Motion has been offering classes since January 2016. Instructor Willow runs the group, teaching all-gender weekly classes and special events, as well as a monthly Women's & Trans class. She does a combination of Vinyasa yoga and core-crunching Pilates, followed by a relaxing meditation (about 75-80 minutes total). New instructors may be added in the future, and they're starting to offer classes in other cities such as Boston. In an effort to be more inclusive, they have a limited number of sliding-scale tickets available. Naked in Motion welcomes all levels from beginner to advanced and offers body-positive, welcoming spaces for people to get Naked!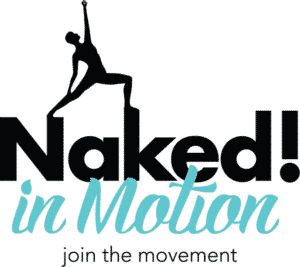 Here is their naked yoga group description:
"Naked in Motion offers Naked! Yoga and Pilates classes in New York City and Boston to promote body-positivity and offer participants a unique experience of freedom. We aim to provide safe, inclusive spaces where people can take a collective journey through fear towards self-discovery and empowerment. We're starting a Naked! movement that challenges the status quo and enforces consent culture and feminist values. We're challenging a society that views nakedness as shameful; media that celebrates only certain kinds of bodies; and a patriarchal culture that values whiteness, cisnormativity, and heteronormativity. We're even redefining 'nudity' by giving women and trans folk the option to wear bottoms in the name of equity. This isn't your average nudist club; it's a rebellious way of moving in the spirit of personal and social change. "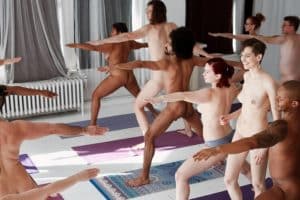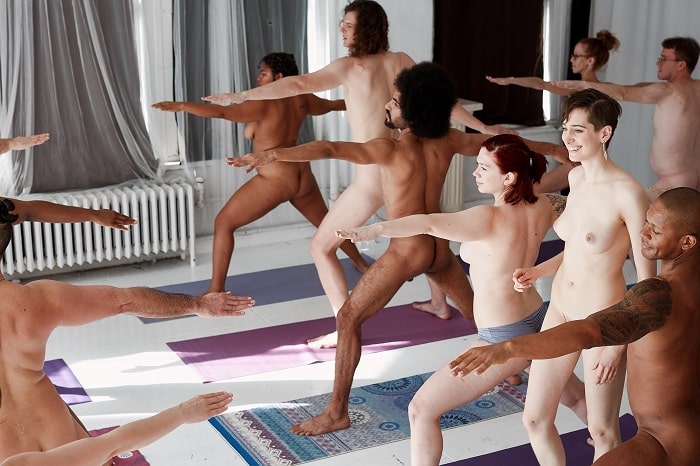 What to Expect: I have attended an all-gender class in Manhattan and a Women & Tran's class in Brooklyn. Both were great. Willow and other instructors are welcoming and very accommodating whether it's your first time or 100th time doing any kind of yoga / Pilates. The Pilates can get a little intense if you're not used to doing it. In some of the classes, they use little battery-powered candles for lighting as the sun goes down, and this nicely adds to the relaxing atmosphere.
Main location: Wild Studio at 245 West 29th St, 11th floor
Cost: $15-$25 per class
Visit their website at nakedinmotion.com to register for classes or for more info!
Naked Yoga and Nude Meditation By Zensuality (On Hiatus)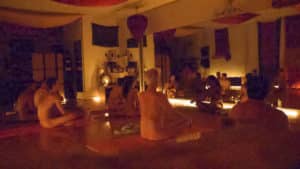 *UPDATE 2018: Zen has not scheduled a yoga class since 2017, and at this point I'm not sure if it's a temporary or permanent hiatus. I will update this post if classes resume.*
Zen Marie Holmes has been doing candlelit yoga classes on Friday nights since 2012. They take place at a private studio in Manhattan. She also does, in addition to nude yoga, naked dance drum circles, raw food workshops and other events in addition to naked yoga. You can join and RSVP for classes on her Meetup group.
Naked Yoga and Nude Meditation With Zen – What to expect: I attended one of her naked yoga classes, and you can read my full review (coming soon) to see what it's like. The yoga style is a mix of Vinyasa and Kundalini. Classes are accompanied by live music for vibrational healing, using the didgeroo, African drums and balaphone. It's a bit more of a new-agey atmosphere. It's also slow-paced and relaxing, so it's good for beginners. After class you can enjoy some tea and raw chocolates while socializing with other students.
Zen does her classes in a private studio, disclosed to registered participants.
When: typically Fridays, 7:45 – 9:00pm
Cost: $25 per class
Visit her website at http://zensuality.us to learn more about Zen and see the class schedule.
Bold and Naked Yoga School (Formerly known as Le Male Yoga)
Owners Joschi Schwarz and Monika Werner had a yoga studio for eight years before they started offering naked yoga classes to men. Then they expanded that to co-ed classes, as well as male-only and female-only classes.
However as of May 2017, their website indicates that they may only be offering individual private sessions right now (nude or clothed).
To sign up for any class, you typically need to fill out a first-time registration form indicating your fitness level and experience with yoga. Then they will contact you to discuss the class options. I was concerned at first when reading their form because it seemed to imply that larger, non-"fit" people are not welcome.
But I contacted Monika, who assured me that they are only looking to understand the student's fitness level and their reason for doing yoga in order to put them in the right class. (They should probably still revise that form to more accurately represent themselves.)
Bold and Naked Yoga Classes – What to expect: The yoga is Vinyasa style. For beginners they offer a special series of classes to attend first before trying the regular classes. I haven't attended a class myself, but you can check out this Daily Mail article and a first-hand account from an attendee on Bedford+Bowery entitled, "That Time I Tried Naked Yoga."
On the Bold & Naked website, they talk about it creating more self-awareness, but they also emphasize how it can help with body image. From their FAQ's:
"Our society is driven by an unrealistic ideal of physical beauty, which can fuel an array of insecurity and self-doubt. Most people don't have the body of a model and yet, we hold ourselves to those standards. One of the reasons Bold & Naked is offering naked yoga class is to help you gain confidence by accepting and loving your body as it is. It can be a very healing experience."
Bold & Naked has a private studio on West 52nd Street
Cost: Inquire for pricing.
Note that their classes are age 21+
Check their website at boldnaked.com for more info.
Nude York Yoga – Men Only Naked Yoga Classes
This is a men-only studio I just found out about from one of our readers – Nude York Yoga. According to their website they've been around since 2010. They have a weekly schedule of classes that focus on Asanas, partner yoga, Pranayama, meditation, and mantras. They aim to provide a judgment-free zone and welcome men of all fitness levels and experience. In addition to classes, they also organize weekend yoga retreats in upstate NY.
From their website: "Drawing on the Tantric and Iyengar yoga traditions, Nude York Yoga provides the space for you to grow your practice and begin to break through the deeply rooted patterns that hold you back from blossoming in all aspects of your life."
Nude York Yoga: 112 W. 27th St
For men only
Cost: $20 per class, or $10 with student ID. Mat rental: $5.
Visit http://www.nudeyorkyoga.com for class schedule and more info
Naked Yoga in NYC by Cindee Rifkin
**2015 Update**: Cindee has discontinued her weekly naked yoga class in NYC in 2015. She might still occasionally organizes other events and gatherings so check out her website at http://cindeerifkin.com . Read my original review below.
Cindee Rifkin offers a weekly co-ed naked yoga class in midtown on Wednesday nights. Her class is pretty popular, so you need to contact her to reserve a spot in advance. In general with yoga classes, you never know who's going to be in class, but Cindee also has a dedicated following of regular students. Unfortunately, we just got notice that Cindee will soon be taking a hiatus from her naked yoga classes! She will be transitioning to doing monthly workshops instead, concerning "food, truth-speak, focused pinnacle asana, pranayama" and more. But read on for more about her style of yoga and info on remaining classes.
Naked Yoga With Cindee Rifkin – What to expect: I have attended one of her classes in the city, when it was in a smaller studio, with about 8-10 people. It was even mix of genders and a very comfortable environment. Cindee starts off by asking each person what their goal is for the class or what they would like to work on. Everyone gets undressed at the same time. The style of yoga is most like Vinyasa, and Cindee leads the class through different poses. There's no set routine, and it's different every time. She's talkative and chatters throughout the class, giving plenty of guidance, focusing your attention and offering techniques for quieting your own brain chatter. Her class is meant to be for students of all levels, so don't be shy if you've never done yoga before!
Cindee's yoga philosophy is about leading students inward to find peace and happiness inside, rather than seeking it from the external world. You can learn more about her views on naked yoga and how she started teaching it in her interview on the Naturist Living Show podcast, "Nude Yoga" (Cindee's interview starts around minute 12) :


Cindee's class takes place at 135 W. 29th Street, between 6th and 7th ave.
When: 7:45 – 9:15 pm, Wednesdays. Last two classes will be April 9th and 16th, 2014.
Cost: Introductory class is $25 and $30 per class thereafter, or 5 classes for $135.
**Cindee's Naked Yoga Classes Discontinued in 2015** See her website cindeerifkin.com for more info about her and other nudie events or gatherings she might be organizing.
————————–
Most of the above naked yoga classes in NYC are nudity-mandatory, as doing yoga naked is the idea. Naked in Motion permits women and transgender participants to wear bottoms in their classes for any reason.
A Word About Topfree Yoga
I have sweated through many a yoga class in a small, overheated room where men are free to go shirtless, but women have to wear tops. And I don't even do HOT yoga. I would encourage any yogi who encounters these rules to approach the studio management and point out the gender discrimination. Ask for all genders to have the same allowances. I haven't had much success with this myself, but I do think attitudes are changing. I knew of one NYC studio that allowed women to go topfree, but it has since closed. If anyone knows of other studios that support topfreedom, let me know in the comments!
All the indoor classes may require a top, but there is one way to practice topfree yoga — attend a public, outdoor yoga class. Women can legally be topfree outdoors in NY State, and NYC has many outdoor classes in the spring and summer.
Outdoor Naked Yoga Classes
I have organized many naked yoga classes at outdoor events in the past, and practicing naked yoga in nature takes it to a whole new level. Being outside surrounded by green grass, trees and even chirping birds can help get you into a more peaceful state of mind. The fresh air will make it all the more pleasant to take those deep breaths as you stretch. And the wind or slight breeze flowing around you can help you feel more in tune with your body. I think it's a totally different experience compared to taking a class indoors.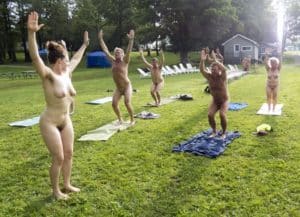 Where to find an outdoor class? In New Jersey, Rock Lodge Club has occasional weekend classes taught by different instructors, Beth Nolan does summer classes every week at Goodland Country Club, and Zen has been known to do classes at Gunnison Beach. It's not in NYC, but the Northeast Naturist Festival in upstate NY typically has at least one outdoor yoga class or two in the schedule.
Honorable Mentions – Nude Yoga Instructor Isis Phoenix
– Isis Phoenix is a longtime yoga instructor and started Cindee on her path to doing naked yoga. Read Isis' story of how she started her practice in "Naked Yoga: A Story of Transformation" (coming soon). Isis is also known for her weekly spiritual / interfaith service known as "Naked Church." She normally offers private naked yoga sessions in NYC, but is currently touring the U.S. doing events. In the meantime, check out her blog project called Asana Exposed, in which she shares people's personal stories about their bodies and doing naked yoga.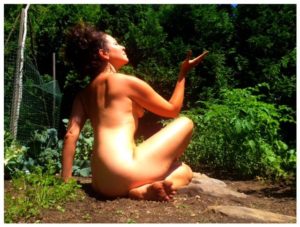 So readers, what's your experience with naked yoga in NYC? Let me know in the comments!
(This nude yoga post was last modified and updated May 9, 2018)
This guide to Nude Yoga and Naked Yoga Classes and Naked Yoga Schools in NYC was published by Felicity's Blog.