Interview With Fashion Photographer Amelia Allen On Her Book 'Naked Britain'
Amelia Allen is a fashion photographer who unexpectedly decided to take her work in a new direction by photographing people without any clothes on. She did this by joining up with a community of British naturists, not only to document their way of life but to experience naturism herself. Her book, Naked Britain, is a delightful collection of images introducing us to modern naturists of different ages and body types. It shows them joyfully engaged in a variety of activities, from riding bikes to gardening to playing pool, or just spending time with their friends and loved ones. The photos are all natural, un-staged and in black and white, which seems to bring the people and their personalities to the forefront.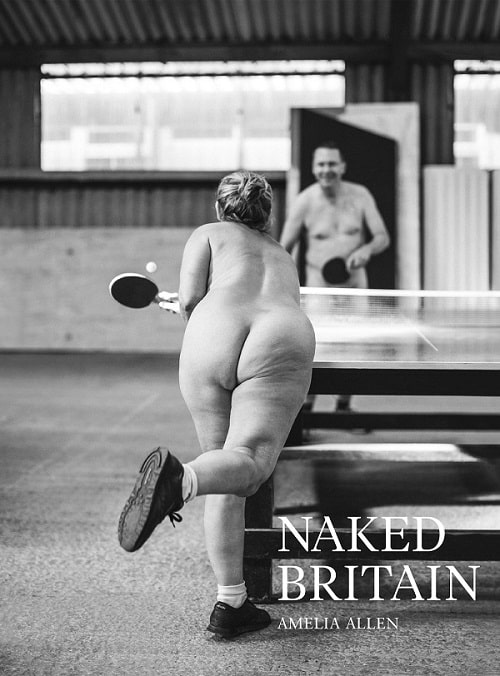 The book starts with a thoughtful four-page introduction written by Amelia, in which she reflects on her naturist experiences and what she learned from it. She covers body image, sexuality and how someone can appreciate fashion and naturism.
Amelia was clearly affected by naturism in a very positive way. Hopefully those who pick up this book will get a solid dose of body positivity and see all the freedom, joy and acceptance that naturism has to offer!
I recently interviewed Amelia to find out more about her experience doing this series, whether she's become a tried and true naturist, and how naturism and fashion relate to each other.
Tell us about your work / career as a photographer. You've been a fashion photographer for a long time? What do you like about fashion?
Amelia Allen: "I love the creativity of fashion and working with other artists to make beautiful images. It's quite a small world in the fashion industry in London so you make a lot of friends and cross paths with others which is great. There is also a variety of different styles in fashion photography and it isn't just runway or editorial. It's great being given a brief and being able to use your vision to create a moodboard with the client / stylist / art director and turn that vision into an image. There is a huge amount of preparation that goes on behind the scenes, unlike documentary photography of real life people and situations which is slightly more organic and spontaneous."
The fashion industry has become strongly associated with the enforcement of beauty standards, negative body image and eating disorders (not that it can't be a source of positive change and empowerment, too, of course!). Did naturism feel like entering an alternate universe in comparison?
"It did feel like a whole other world to me outside my life my London. Being a fashion photographer means that I have spent the majority of my career photographing conventionally beautiful and aesthetically pleasing models who are used to display clothes. Everything surrounding this is, of course, to do with body image and having to look a certain way to fit a specific societal construct of what is seen as beautiful.
So it was refreshing for me to be around people of all ages, shapes and sizes and photograph them in comparison to models. The idea that everyone was fairly comfortable with how they looked and able to be naked socially was completely new and fascinating to me.
Growing up today, through such a politically dynamic time, where women's rights are a huge issue, I wanted to create a project that took liberation and freedom of body image into the limelight. I wanted to photograph a community that represented equality in body image, appearance, sexuality and gender. The whole book is un-retouched and shows the human body for what it is, stretch marks and all. And what I liked about the naturist community was that in this day and age there are still 10,000 members of a club that are in a supportive community. Naked, they feel liberated and free despite the pressures of society, social media and advertising."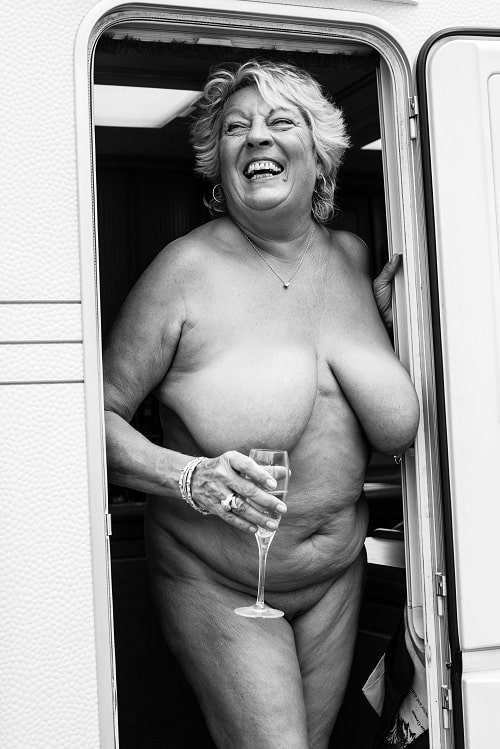 What inspired you to do this project and book with naturists? I'd heard on the Naturist Living Show that you got the idea from a certain photograph?
"My inspiration for the book Naked Britain came from an image taken by Magnum photographer Elliot Erwitt from 1968 of a naturist couple in Kent, England. I first saw his exhibition in New York when I was 16 before studying his work in photography at A level. I often photographed my friends naked and loved that the images where people appeared most vulnerable and raw were the most beautiful and honest. This triggered an interest in a community where people were naked all the time and I researched naturism to see if this existed in the modern day and particularly in Britain where our attitudes towards nudity seem slightly dated.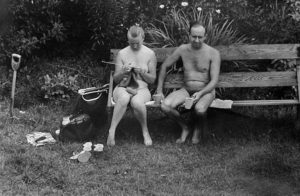 In doing this book, I wanted to step away from the conventionality and pressures that surround a typical fashion shoot and also from social media and the retouching and considerable behind-the-scenes efforts to create the 'perfect' photograph. I badly wanted to move away from the prevailing assumptions that society leads us to believe when we think of a naked body, and photograph something that goes against this, which is how I discovered naturism. As the project progressed I was fascinated by the fact that one week I was shooting London fashion week runway shows, and just twenty miles away was an entirely naked community, lounging in their own freedom of self-love, liberation and body acceptance. Fashion is used as self-expression and I wanted to photograph this juxtaposition of people expressing themselves by using their raw materials, their naked bodies, as opposed to the conventional use of clothes for self-expression. I wanted to experience something away from fashion, but something still very much focusing on the beauty of the human body, and naturism was perfect for this."
In your book's introduction, I find it kind of funny and interesting how you conclude that naturism is the "ultimate self-expression." People would think that this is what fashion provides, with all the unlimited and unique ways a person can style and dress themselves…
"I think both fashion and naturism is self-expressive. It just depends on the person. A lot of people use clothes to show their personality or status etc., but many naturists I met preferred to be stripped of fabric and fashion and be their raw honest self. I guess it just depends on who is practicing it. I enjoy both the fashion and naturism world."
What was it that you found "dated" or problematic about British attitudes towards nudity and the human body? And how did that influence your creative process with this book?
"I felt like the human body had been over-sexualized and actually most of the time our reproductive organs are not being used so why is being naked always sexy or sexualizing oneself? I wanted to shift the focus away from sexuality in the human body to have a book that celebrated the diversity of body types and ages in the naturist community that wasn't art directed or cast by a model agent.
I also felt that as a female British photographer, having grown up here in the UK, the attitude towards nudity was that it was distasteful or unsightly unless it is for sexual reasons / pleasure / editorial. There was a double standard. It was okay to see a woman with perfectly round perky breasts on the side of a bus or on Instagram, but a mother breastfeeding in a café was offensive. I decided to photograph the most British scenarios like the pub, tennis, water park, bike rides, discos, festivals, museums and people doing everyday tasks while nude. Seeing all these commonplace tasks / outings but without any clothes on makes you do a double take and see the image and subject differently."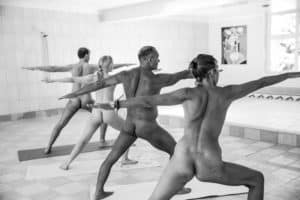 Where did you find your subjects and where you did photograph everyone? How did you go about finding these places?
"I came across British Naturism, a membership organization, and thought it was fascinating that this lifestyle was still very present and thriving in a world filled with social media where people strive for perfection. I worked with a number of naturist clubs throughout Britain and became a member of British Naturism myself. I traveled to a variety of clothing optional events including festivals, protests, theme park events, dinner parties, pubs and clubs and became part of the naturist community working alongside British Naturism to show an honest perception of naturism in the 21st century and the positive impact it has on its followers."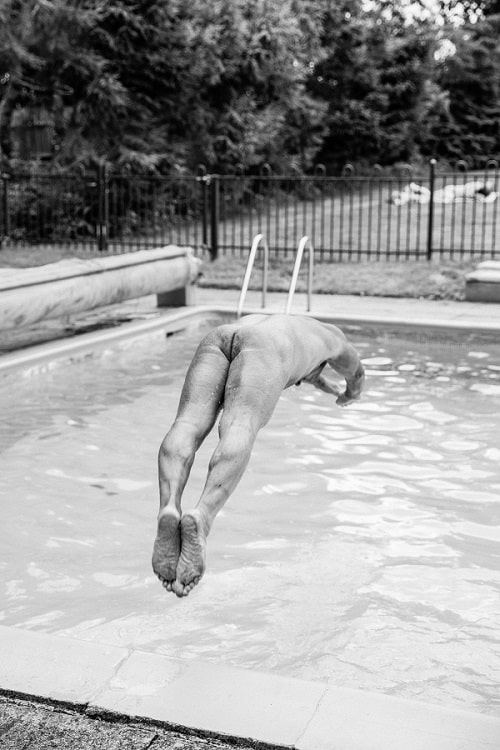 You write in the introduction about how you immersed yourself in the naturist world for this project and got naked yourself for the photo shoots. Prior to this you said you'd never been naked in a social situation. So when you decided to try naturism yourself for the first time, what were your initial thoughts? Were you scared / nervous / excited? Any particular fears?
"It's a combination between feeling vulnerable and out of your comfort zone because clothes can be a safety net to protect you. There is also the fear of being judged and what others think about your body. Of course after a short while these fears disappear and you blend in.
I photographed the entire book naked because as a young woman I wanted to experience the way this lifestyle felt and completely immerse myself in the world of naturism in order to understand the psychology behind it. I needed to communicate this through the images and text in my book. The subjects I was photographing were reacting to not just my camera but to me as a photographer. I felt that if I were a part of the community I could communicate a more honest view of what I saw rather be peering in as an outsider with my camera.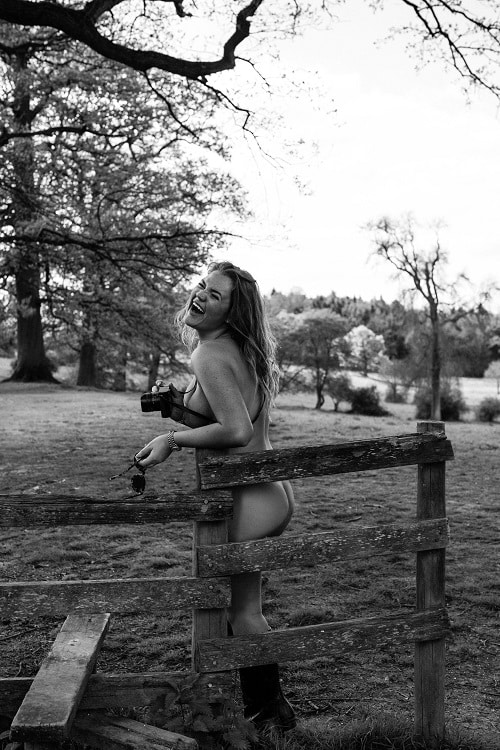 I couldn't write about a documentary project I shot and try to convey a true story and lifestyle with my images without immersing myself in that world. I wanted to try it and also, it helped me connect with my subjects and participate on an equal level."
So how did you feel about naturism after spending some time at clubs and naked events?
"I was captivated by naturism and what it really means to be a naturist and it was an incredible experience to be welcomed so warmly into another part of society which most people in Britain have no idea exists. Every time I walked out of the naturist clubs, I was filled with inspiration, opened up to a completely different world where body image, no matter what size, is accepted! I quickly started to recognize that fashion and clothes are all labels; a quick, easy way for people to judge you, give you a status, a place in society (which of course, we are all accountable for) but, with naturism, you could literally be a prince or a pauper and nobody would know because when you are naked, nobody knows who you are in society and for once, you are equal to everyone around you."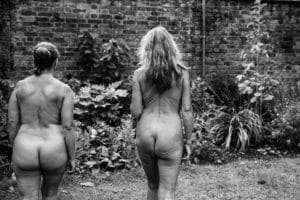 What was your favorite naturist event or place to photograph people? And why?
"I really enjoyed photographing at Diogenes Sun Club because it was the first naturist club I visited, and I made some lovely friends there. I felt very relaxed and at home in the company of the naturists. I also enjoyed using the facilities when I visited, like the swimming pool and sauna. I do enjoy the larger naturist events like the festivals or weekends away at water parks etc., but there is something lovely about a low-key day sunbathing in the sunshine in the gardens of a quiet country house."
Do you consider yourself to be a naturist now? Do you plan to continue visiting naturist venues / places?
"I am still a member of British Naturism and have visited naturist clubs and events since my book has come out. I am also working with the team behind London Naked Bike Ride for this summer's ride. I became friendly with a lot of members of British Naturism during the time I shot the book and so will definitely be keeping up those relationships and visiting the clubs when I get time off."
———
That concludes my interview with the lovely Amelia Allen. If you're in the UK, you can see her Naked Britain photographs in person at her next exhibition in June!
Here are the dates:
June 14-15th: Exhibition at The Art Rooms NW6 London
June 16-17th: By appointment only
June 16th from 2-4pm: Naturist clothing-optional viewing
Find out more about Amelia and how to get your own copy of the book at http://www.ameliaallenphotography.com/.