Naturist Festivals and Naked Events Happening This Summer 2018
This is a 2018 guide to naturist, clothing-optional and naked events happening around the U.S. and Canada this summer! It's split into two sections — Naked / Clothing Optional Events (more mainstream events that appeal to naturists) and Naturist Events (organized by and for naturists). The list is focused on big festivals, gatherings and unique events, excluding regular club socials like potlucks, BBQs or holiday parties. Check back here as I will update this list with more events!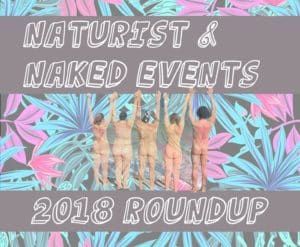 All of these events are inclusive, meaning they are LGBT+ friendly and all are welcome regardless of gender, age, sexual orientation or marital status. There are some well-known clubs / events that are intentionally left out here, either because they don't align with naturist values or because they try to use sexy naked female models to promote themselves (a personal pet peeve), or are not inclusive, or all of the above.
But this is not a complete list of everything, and as I've pointed out before, a lot of nudist clubs don't post very much information about their own events, leaving me unable to figure out what they even are or if they're worth sharing. If you have an event you feel should be included here, feel free to contact me or leave a comment!
Naked or Clothing-Optional Events 2018
The following is a list of more mainstream naked events that also appeal to nudists and naturists.
World Naked Bike Rides (WNBR)
For those not familiar with it, the World Naked Bike Ride is an international protest event that aims to draw attention to fossil fuel / environmental pollution and cycling safety. Participants bike nude (or semi-nude) to draw attention to the vulnerability of cyclists. Many wear fun costume accessories or get body painted before the ride. Two big rides coming up on June 23 are in Los Angeles, CA and Portland, OR. The Southern California Naturist Association (SCNA) helps organize the LA WNBR. For more rides and dates:
July 7: Bend, OR
July 14: Buffalo, NY
July 21: Boston, MA
July 21: San Francisco, CA
September 8: Philadelphia
TBA: Seattle, WA
Find info on more rides at the WNBR Wiki or do some online searching for rides in your state because the Wiki doesn't seem to have all the rides or the most up-to-date info. If you don't have a local ride, you could always start one of your own!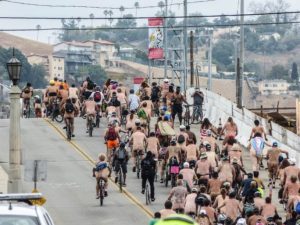 Celebrate PRIDE – Toronto, Canada and Seattle, WA
June 23 – 24th, 2018
March in the Toronto Pride Parade this Sunday June 24th with the Federation of Canadian Naturists! What's special about this is you can actually march naked, and it's legal. Learn more at https://fcn.ca/. And over in Seattle, WA, Tiger Mountain Family Nudist Park will have a booth at PrideFest this weekend, and they're looking for help handing out brochures and chatting with people.
Also, I think naturists supporting or participating in Pride is a great way for us to celebrate and demonstrate acceptance! Even if you have to or want to wear clothes. (If you know of other opportunities for naturists to join in Pride celebrations before the month is out, please share in the comments!)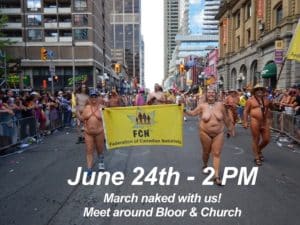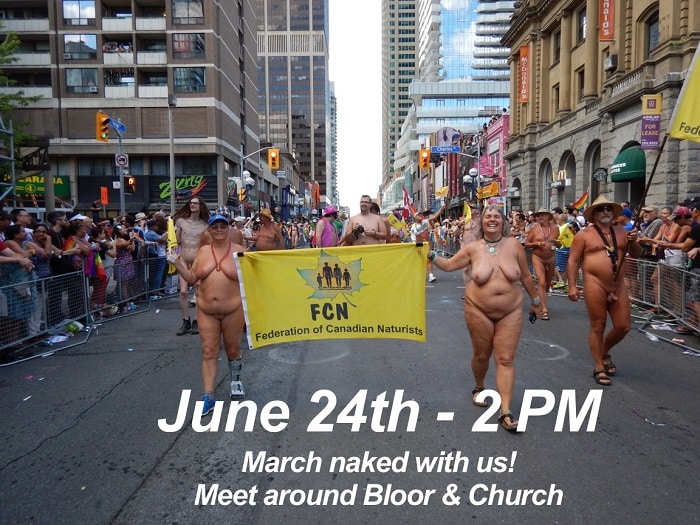 Sunburn
July 6 – 9, 2018
Penn Sylvan Health Society (PSHS) located at 5028 Camp Rd, Mohnton, PA
This is an annual all-ages event run by a local "burner" community and promises art, music, workshops and a lot of fire. It's not an official regional burn, but it does abide by the 10 principles of Burning Man. Attendees are a mix of nudists and non-nudies (favoring the latter). The grounds are clothing-optional but nudity is still required in the pools, hot tub and sauna. Tickets are limited to 182 people, and kids 12 and under are free. Learn more: https://sunburn.ticketleap.com/sunburn2018/
Naked Tour of Howe Caverns
July 14, 2018
Howes Cave, NY 12092
This is perhaps the first ever naked tour of a prominent underground cave site in the U.S. (Europeans have probably tried this already). On International Nude Day, July 14th, you can join a group for "a leisurely naked stroll through the cave by lantern light" at Howe Caverns. Their website says they believe "natural is beautiful" and want to promote body positivity. They even announced recently that Sarah Danser, a former contestant of Naked and Afraid, will be attending the event to do a meet and greet! On the caverns tour, you can see limestone formations, stalactites and an underground lake (I will assume skinny dipping is not part of this. Ha!). The caves are 52 degrees year-round, but the staff assures people that they took a naked stroll to try it out and that it's comfortable enough. However shoes are still required (no flip-flops). The tour will take place after hours, at 7:30pm. It costs $65 per person and includes a "souvenir robe and complimentary adult beverage." The caverns are normally a family tourist destination but unfortunately this event is 21+. Reservations are required – see their website for details. http://howecaverns.com/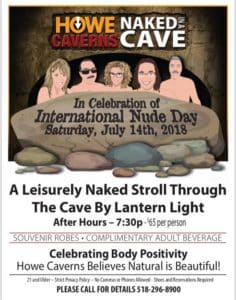 Naturist Events 2018
These are events organized by and for naturists / nudists. They all take place at nudist clubs / resorts or nude beaches.
Nude 5K Races
Nude 5k runs take place around the country every year at various nudist clubs and resorts. I don't have a resource for all the race events and dates in one place (anybody got one?), but here are some upcoming races:
• June 23 Annual 5K Race at Turtle Lake Resort in Union City, MI
• June 23 Annual 5K Race at White Tail Resort in Ivor, VA
• June 30 Annual 5K Race at Coventry Club & Resort in Milton, VT
• July 7 State Line Streak at White Thorn Lodge in Darlington, PA
• July 8 Bare Buns Fun Run at Tiger Mountain Family Nudist Park in Issaquah, WA
• July 15 Bare Buns Run at Wreck Beach in Vancouver, BC, Canada (CANCELLED)
• July 22 5K Colour Fun Run at Bare Oaks in Ontario, Canada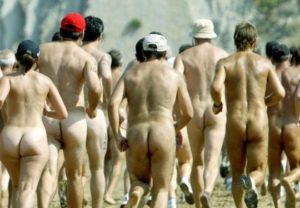 Celebrate Legalization of Marijuana in Vermont + Water Wars Weekend at Abbott's Glen
June 30 and July 27 – 29th, 2018
3542 VT Rt 112, West Halifax, VT
Just before their 4th of July festivities, Abbott's Glen will celebrate Vermont's new legalized marijuana law going into effect at midnight on July 30. (Starting July 1, adults 21+ in VT can legally possess up to one ounce of marijuana.) The bed and breakfast style inn will have a party with a reggae band called The Equalities. All overnight guests can attend the event, but if you want to visit just for an evening at the nightclub, you must be a couple. Abbott' Glen has charming guest rooms and suites as well as camping. Amenities include a hot tub, wood fired sauna and nightclub, as well as a pond, river and hiking trails on their beautiful grounds.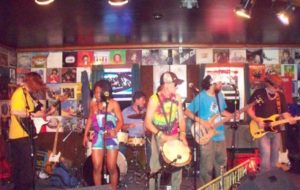 Also of note at Abbott's Glen is their "Water Wars" weekend (July 27 – 29). That Saturday will be a day to unleash your inner child and engage in a day-long water fight with super soakers, squirt guns and "any vessel that holds water." There will also be a group bonfire on Friday, a Saturday night dinner and a nude yoga class. Visit AG's website at abbottsglen.com for more info.
Young Nudist Weekend at Dyer Woods
July 6 – 8th, 2018
114 Johnson Rd, Foster, RI, 02825
Like our previous young naturist gatherings, Dyer Woods is once again organizing a weekend of fun activities for "the young and young at heart." Join them for hiking their nature preserve, naked slip n slide, yoga classes, body painting, evening bonfires, volleyball and games, and more. The club also offers a swimming pond, wood-fired sauna, hot tub and clubhouse. Camp out at the group campsite or contact them to book an overnight rental. Day fees for Sat / Sun are discounted at $25 per single or couple (any two people arriving together may register as a couple regardless of gender). Visit dyerwoodscampgrounds.com for more info.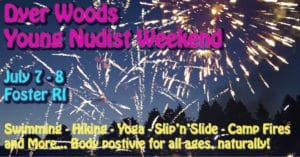 Solair Young Naturist Weekend / 3rd Annual Brew Fest
July 6 – 8th, 2018
65 Ide Perrin Rd, Woodstock, CT
Solair has been organizing "young naturist" weekends for a few years. This event offers fun games and competitions, a "brew fest / pizza party," a live band called Heavy Rescue, and a carnival on Sunday. Solair is a large co-operative club with a few hundred members and modern facilities that include a swimming lake / beach, outdoor swimming pool, hot tub, tennis and volleyball courts, clubhouse and more. All are welcome to attend, and for those under 40, the fee is only $10 per person or couple. Learn more at www.solairrl.com.
Heartland Naturist Festival
July 13 – 15, 2018
Kansas City, KS
This is a 3-day festival organized by a well-established group called Heartland Naturists, based in Kansas City, KS. It's an affordable, family-friendly event, and activities on the roster include a "massive water fight," giant games like Jenga and Connect 4, contests for campsite decoration and body painting, dance party with a DJ, 5K Sun Run and a silent auction (to raise money for HNF). The venue has 168 acres of woods and trails. It's not clear exactly where the event is being held, so I must assume the address is given to ticket buyers. Everyone who wants to attend must register by July 11th. Early bird pricing until June 30! More info on the HN website.
4th Annual Blind Creek Beach Skinny Dip with Treasure Coast Naturists
July 15, 2018
Fort Pierce, Florida
This event is part of National Nude Weekend, and as TCN describes it, "Each year we attempt to break a new record for the number of nude humans in the surf on our stretch of shoreline. Be a part of the fun. Volunteer for activities including Beach Ambassadors, litter clean up, and more. Interested? Email: [email protected] if you are planning to participate." More info on the Facebook event. Similar events will take place on July 14 at different clubs, as this is AANR's International Skinny Dip Day.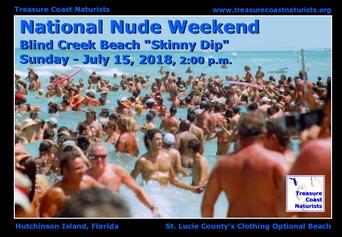 Guided Trip to Clothing-Optional Beach at Marth's Vineyard, MA
July 21 (rain date July 22) and August 18th (no rain date), 2018
With Pilgrim Naturists of New England
This group organizes guided day trips every year to a nude beach in Massachusetts. The beach is located at Aquinnah (formerly known as Gayhead) near the Gayhead Lighthouse on the island of Martha's Vineyard. Newcomers will get directions and see how to get there so they can easily visit the beach again on their own. This beach is described as remote and has no lifeguards, vendors or services. The nude use has been a tradition there for a long time. Advance registration is required to join the trip. For more info, directions and how to register visit: http://www.sunclad.com/pilgrim/events.shtml.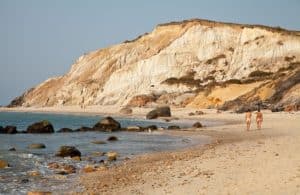 Bodyfest Canada
July 27 – 29, 2018
Bare Oaks Family Naturist Park in Ontario, Canada
Bodyfest is a Naked Club event that originated at Lupin Lodge in California and launched a Canadian version last year at Bare Oaks. The Lupin event already passed this month, but Bodyfest Canada is happening again at the end of July. This is a lively weekend full of activities for adults and kids alike with nude Olympics, body and mud painting, water games, yoga, a standup comedy show and more. Bare Oaks is a thriving naturist park with a couple hundred members, beautiful grounds and facilities – outdoor pool, swimming pond, hot tub, two saunas, restaurant, lounge / game room, volleyball courts, campground and overnight rentals. More info here.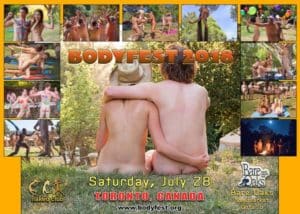 Nude Skydiving with Heartland Naturists
August 4th, 2018
Kansas City, KS
A chance to try skydiving naked! The Heartland Naturists have arranged for a group outing to a skydiving place that's 15 minutes from downtown Kansas City. It takes place at 6pm in the evening to "avoid lookie-loos." Participants must be 18+, weigh under 220lbs and can do this nude or topless. It's also a tandem jump (with an instructor) unless you are licensed. The cost of a tandem jump is $210, and you can obtain a video or still photos of your jump for $70. The exact location is given to registered participants. More info on the HN website (which states that more details will follow).
Northeast Naturist Festival at Empire Haven Nudist Resort
July 31 – August 5th, 2018
5947 Sun Lane, Moravia, NY
The Northeast Naturist Festival, now in its 27th year, is an annual gathering with 6 days of various workshops, live music, children's activities, evening drum circles, a sweat lodge and more. All this takes place at Empire Haven Nudist Club in Moravia, NY, which also has its own facilities to offer like an outdoor pool, sauna, hot tubs and nature trails. Find more info and how to register at the Empire Haven website.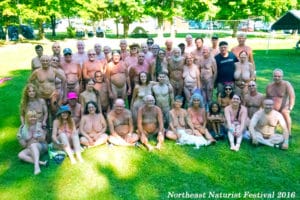 Naked Man at Laguna Del Sol
August 2 – 5th, 2018
8683 Rawhide Lane, Wilton, CA 95693
Since 2012, Laguna Del Sol has organized an annual event in honor of Burning Man, and they call it "Naked Man." From what I've read online, it seems like they get a couple hundred people for this. I'm not sure if there's any sort of event schedule, but you can expect many of the same things you'd find at any "burner" event – art, music, games, costumes, performances and a little fire with their own Naked Man effigy. The club itself has a 25 acre lake, multiple pools and hot tubs, full-service restaurant and lounge, guest rooms, sports amenities, children's playgrounds and more. I found a brief review of last year's event and visit their website for more info: www.lagunadelsol.com
Music Medley at Sunsport Gardens
August 10 – 12th, 2018
14125 North Road, Loxahatchee, FL 33470
Sunsport Gardens Naturist Resort organizes young adult festival weekends with a group called The Tribe, 3 times / year. The summer festival happens every August. These events usually feature a number of live bands, workshops, performances, yoga, body painting, fire and drum circles, and more. Naturists age 18-30 and under pay special rates and have a designated campsite. For those over 30, regular rates apply. Children under 18 are always free. More info: sunsportgardens.com.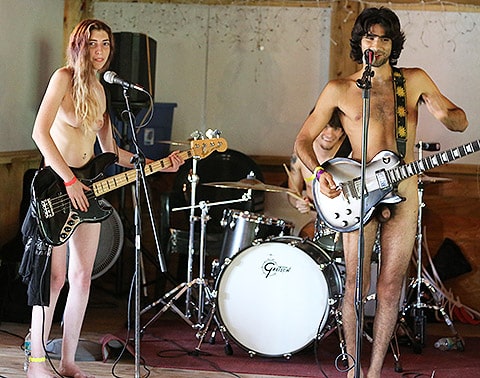 Avalonfest Music Festival
August 10 – 12th, 2018
Avalon Resort at 223 Avalon Rd, Paw Paw, WV 25434
This is a 3-day outdoor festival with live music, arts and crafts. This is a big annual event with vendors, food, camping and an "eclectic" mix of music. Avalon is a well-developed resort and has many facilities including an indoor and outdoor pool, hot tub, a restaurant and bar, library, volleyball and tennis courts and 18 room lodge. See their Facebook event and website for more info: www.avalon-resort.com.
Superbowl XLVIII Nude Volleyball Tournament
September 6 – 10, 2018
White Thorn Lodge at 383 Stateline Road, Darlington, PA 16115
Happening annually since 1971, Superbowl is the largest nude volleyball tournament in the world. Hundreds of players compete in games that range in skill level from B to AA. There is always other entertainment scheduled as well, such as live music, body painting and dance parties. WTL is a great co-operative club that offers sports facilities, a heated swimming pool, in-ground "therapy pool," hot tub, sauna, a lovely clubhouse space and more. The event remains affordable at $75 pp and $10 for camping for the main tournament days (4 nights). Learn more on the WTL website.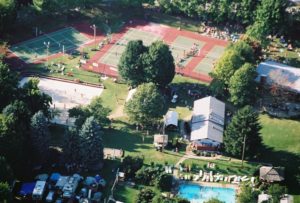 Family Naturist Events
Most of the events listed above are family-friendly, but there are also special events just for children and their families. Some nudist clubs organize family event days or full weekends that include all kinds of games, food and activities for kids and their parents. Examples: Family Fun Day at Rock Lodge Club (NJ, July 28), Family weekend at Bare Oaks (ON, Canada, 3rd wknd of July), and Family Day at Mountain Air Ranch (CO, July 7). Laguna Del Sol (Wilton, CA) has been offering educational programming for children every Saturday this summer, such as fishing lessons, fire safety, nature hikes, games, and arts and crafts. See their Facebook page events for more. Also, the Northeast Naturist Festival listed above is a great event to bring your kids to and has a schedule of kids' workshops / activities for the duration of the festival.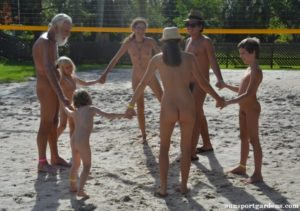 Going on for 12 years now, Sunsport Gardens in Florida has hosted an annual week-long Naturist Family Youth Camp for kids, ages 4 – 17. Older campers are encouraged to help as counselors. It's described as a fun week of growth, community, learning and creativity. Activities include a camp variety show, crafts, tie dye, nature exploration, canoeing and kayaking, non-competitive sports, games, body acceptance workshops, slip n slide and more. This year it takes place July 14 – 22, 2018. Get more info and registration forms at sunsportgardens.com.
Nudist / Naturist Organization Events
In addition to all of the above, the major nudist / naturist organizations like AANR regionals, TNS and FCN all have annual conventions and gatherings in the summer. These events are often a good opportunity to learn about politics and legal matters affecting naturists and what you can do, via different workshops and seminars. The Naturist Action Committee (NAC) always does seminars at the TNS gatherings. Of course there are also fun activities scheduled as well, like dances, talent shows, volleyball, games and workshops on other topics.
The Naturist Society's Eastern Naturist Gathering (ENG) will take place June 27 – July 1 at Camp Timber Trails (a new location!) in Tolland, MA.
And its West coast version, the Western Gathering will take place July 19 – 22, at Lupin Lodge in Los Gatos, CA, which SCNA will also be attending and hosting workshops. (Info at the same link above.)
FCN's Canadian Naturist Festival is set to take place August 2 – 5 at Club Naturiste Loisirs Air Soleil. https://fcn.ca/
What's your experience with these events? What festivals or events will you be heading to this summer? Share in the comments!