Mohonk Preserve Nude Hiking Trail and Naked Sunbathing and Swimming At Split Rock
Getting Some Naked Sun At Split Rock And the Mohonk Preserve
While we still have some beautiful fall days left, I wanted to share a clothing-optional place to go where you can also get your outdoor / fall foliage fix! It's located in the Mohonk Preserve in the town of New Paltz in upstate New York. It's about an hour and a half drive from NYC.
Mohonk Preserve NY – We first went there on a sunny day in August (2011). There are numerous hiking and mountain biking trails all over this mountainous rural area, not to mention rock climbing and various other outdoor activities you can do there.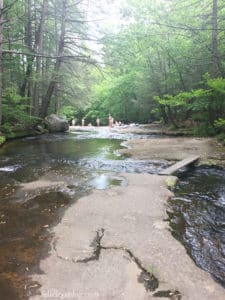 The place we went to is a clothing-optional section on the Coxing Trail. The closest parking lot is at the Coxing Trail Head. From here it's about a 10 minute walk to the c/o area, but this small lot fills up quickly. It was full upon our afternoon arrival so instead we parked at the West Trapps trail head. This was a longer ways away from the c/o spot (approx 30 minutes), but a nice hike anyway! It's a relatively easy and mostly flat walk, but sneakers are recommended.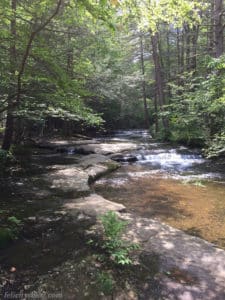 The preserve charges $15 per person (as of 2017) for a hiking day pass, which you pay upon entrance into the parking lot. Seasonal memberships are also available for those who live close enough to frequent it.
Hiking Directions: To get there from West Trapps, you can follow the blue to the yellow to the red trail, or take the red trail most of the way (see map images below). Then you'll reach the yellow trail that runs along Coxing Kill stream. First there's a clothing-required area, and there's a popular spot here called Split Rock. Keep following the yellow trail for a few more minutes until you reach the telltale sign posted on a tree! From Coxing trailhead, you'll just walk down to the stream and follow the yellow trail along the water. Also, here are the coordinates of the nude area: 41°44'56.3″N 74°11'26.9″W.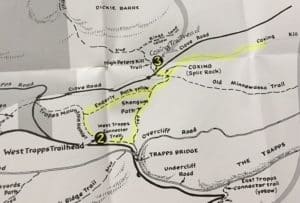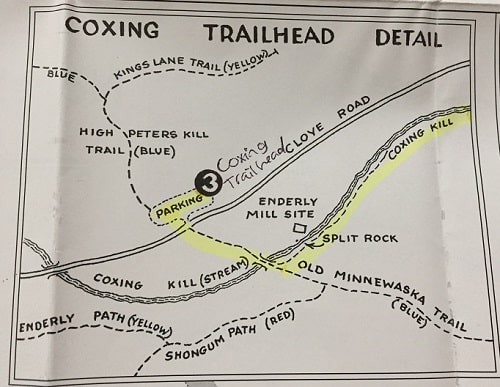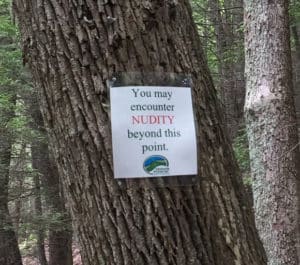 And then you can remove all clothing and be as freely nude as the wildlife! (There is unfortunately no established name for this area. Many refer to it as Split Rock, even though that's the name of the textile section. More on this later.) A little further down we found the area where people (mostly men on this day) hang out on the flat rock lounging out in chairs or on towels. It's in the middle of the woods so there's a mix of shade and sun. The stream of water moves steadily around the rock, creating pools and little waterfalls. So pretty and serene!
However the water is always ice cold, so nude swimming is best reserved for nice summer days. The area is thick with trees and plenty of natural vegetation for the senses to feast on. Check out photos below of some orange mushrooms I spotted and a butterfly in motion!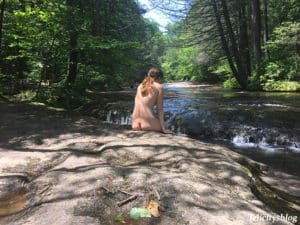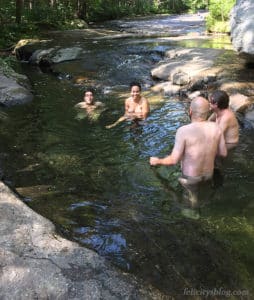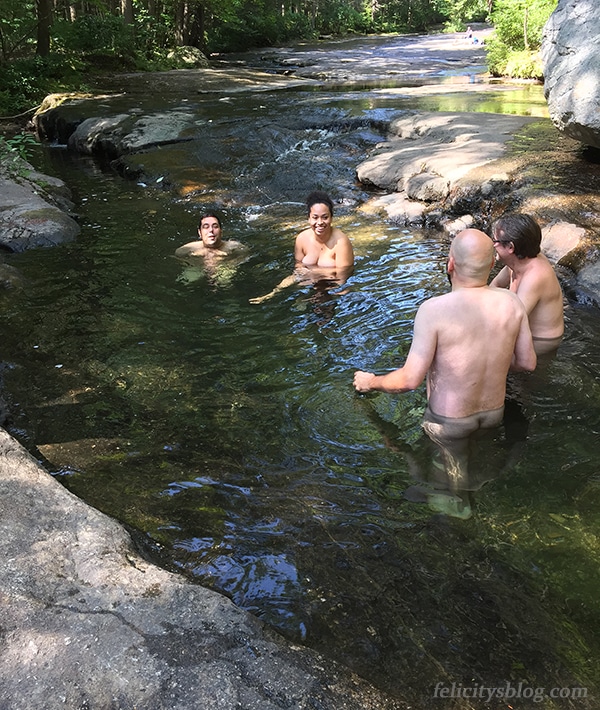 Shortly after our first visit (in 2011), I wrote to the Mohonk Preserve to ask why there is no information on their website about this clothing-optional area. Their reply:
"In an effort to accommodate a diverse population of visitors, the clothing-optional area on the Coxing Kill stream is a long-standing tradition at the Mohonk Preserve. Only a very small fraction of our visitors take advantage of this area.

Over the years we have had to manage a certain amount of conflict between the vast majority of our visitors and the group utilizing the clothing-optional area. Many of our members and visitors do not feel that this is an appropriate use of our landscape since it has the potential for bringing families with children into contact with folks in the clothing-optional area.

Families have expressed to us their discomfort with this 'exposure' (pun intended) and feel that this area of the Preserve becomes, de facto, off-limits to them. Because we try to balance opportunities for all to enjoy our lands, we do not publicize the clothing-optional area on the Coxing Stream."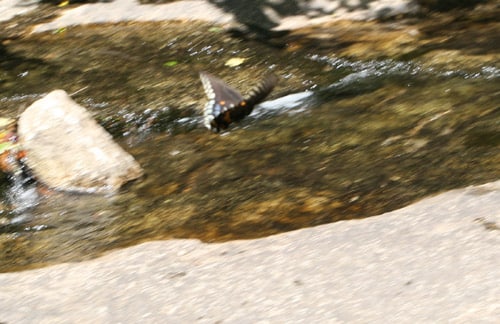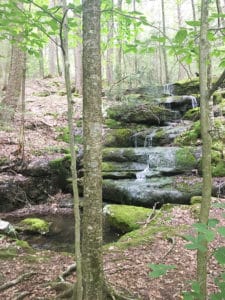 Sounds like they ran into a bit of controversy and some angry parents. The usual "What about the children!" crap. Thank you, MP, for deciding that a designated clothing-optional area is appropriate.
Now to educate people on how simple nudity actually doesn't harm children. You would think that with an area set aside, both groups would be able to peacefully coexist. The Preserve is big enough! I also don't think these families realize how very few places there are to legally skinny dip outdoors in NY state.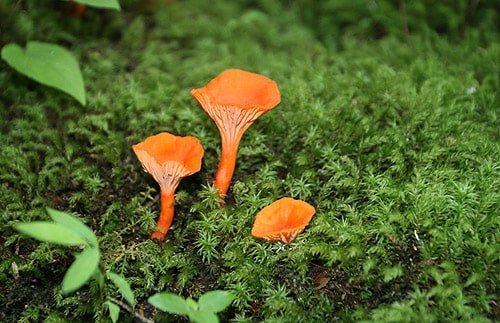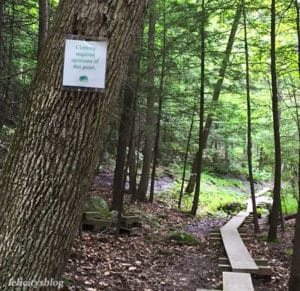 Update 2018: We've been back to this spot many times since our first visit years ago, and it's still one of our favorite places for nude sunbathing / skinny dipping in nature. And if you want to connect with others who frequent this area or ask questions, one of our local friends has a Facebook group called Split Rock at Mohonk.
If you visit Mohonk, leave a comment and let me know what you think of it!
This post was originally published in October 2011 and was last updated June 2018.
Nude Sunbathing and Naked Hiking at Split Rock Mohonk Preserve published by Felicity's Blog.