The Real Nude Beach Body Positive Photography Project: Interview with Paul
Meet Paul, the 5th participant of my series, The Real Nude Beach Photography Project, which took place at Gunnison Beach in 2017. Paul is somewhat new to social nudism, but his beach experiences have had a significant impact on how he views himself and others. In this interview, he talks about body image and how naturism has helped him become a better person.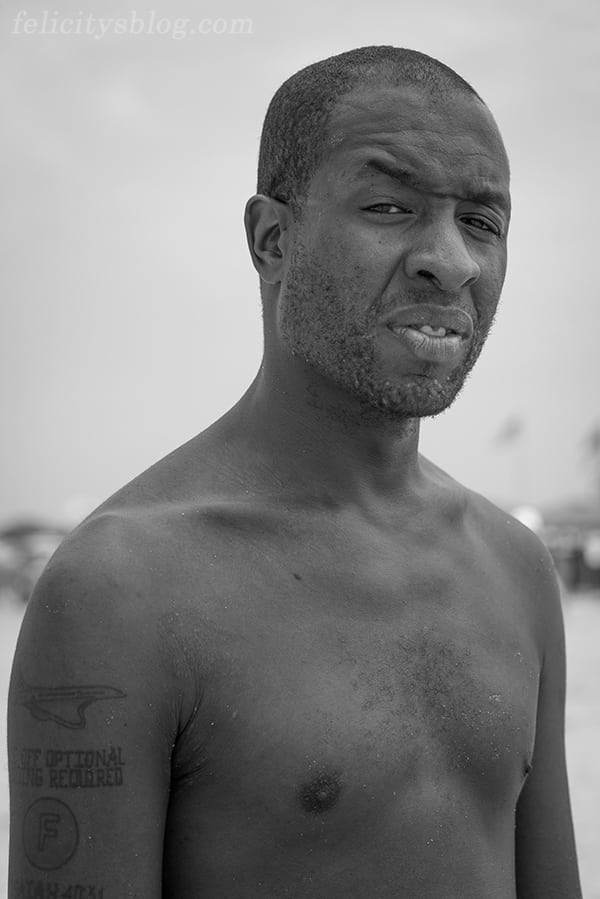 Name: Paul
Age: 34 years old
Lives in Hempstead, NY
What do you do for a living? And / or what are your favorite hobbies?
Crew Chief Fleet Service. Hobbies include flying and motorcycles.
How often do you visit Gunnison Beach?
At least twice a summer.
Why do you visit the nude beach?
My wife and I are pretty new to the naturist lifestyle…we are often nude in our apartment so we like the idea of doin' that outside the house with others like us.
What made you decide to visit the beach for the first time? How would you describe your first experience?
We wanted to try being nude somewhere other than our apartment…it was amazing, the people were friendly and it was completely the opposite of what we expected.
What do you like about Gunnison?
Friendly people and a nice area to be nude.
Do you identify as a nudist or naturist? Why or why not?
Nudist because we take more pleasure in being nude than wearing clothes.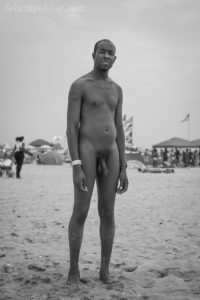 Has visiting the nude beach changed the way you feel about yourself and your body?
I feel better about how I see myself. I now more than ever feel better about my physical body. Teachers and classmates in the past told me I was ugly and would die alone. Being around other naturists has taught me to be who I really am and not who I try to be. It makes me feel like I can be the real me and not the projected me that society wants me to be.
Visiting the nude beach has effectively changed my perception on body image because I no longer judge a person by their appearance but by who they are.
And it feels great to be around people who don't stare at me for how I look and who share my views. I never thought I could be around other people nude and not stare. To change how you have been programmed takes a renewing or transformation of your mind.
Has visiting the nude beach had an impact on your life in any significant way?
Visiting the nude beach has definitely impacted me in a significant way. It has made me a better person and a better husband. It has taught me to appreciate and view my wife first and foremost as an individual / person instead of focusing on her physical frame or sexuality. This sex-crazed culture makes sex and sex appeal the highest priority. Naturism or nudism shows that it doesn't have to be as important as we make it. We should focus more on respect, communication and appreciation of who we are.
Does the nude beach ever feel like a sexual environment to you at all? If so, why?
Only once when a male told my wife she had a sexy body. Overall I don't blame the beach for one misguided individual.
What would you say to people who claim that the only people who visit the nude beach are the ones you "don't want to see naked"?
Not true…But when you understand how it all works you won't care how people look nude.
How do you feel about others seeing you naked?
Not worried like I used to be.
Do your friends / family know you go to Gunnison? Who do you visit the beach with, if anyone?
Some friends do know…I haven't really had that conversation with anyone other than a select few. I would go with anyone who would be open to it.
Why do you think nudity is so controversial in America?
People think being nude is for sexual intimacy or showering only. People as a whole refuse to think other than what they were taught even if it's wrong.
What would you say to someone who's thinking about visiting Gunnison but is afraid to take the plunge?
Pick a date and we will go with you, and you will see it's not a big deal. You might like it.