Nudist Summer Vacation: Rent A Spacious 2 Bedroom Cabin At Rock Lodge Nudist Club, NJ
A modern two bedroom, fully furnished summer cabin is available for rent at Rock Lodge Nudist Club in Stockholm, New Jersey. Take a summer get-away and relax surrounded by nature at this beautiful cabin and club! Rent for your summer vacation or become a member of Rock Lodge and have your own place to return to each visit. Enjoy the beach by the pristine lake as well as the many club facilities. This includes a sauna, outdoor hot tub, tennis courts, nature hiking trails, clubhouse and more. This cabin is available for the full 2018 season, May 1st – October 15th.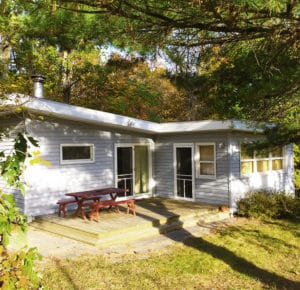 The Rooms: Each of the two bedrooms has a queen size bed, a closet and ample space. They are located at opposite ends of a hallway, and the guest bedroom has its own entrance. This layout offers much privacy for each of the rooms and makes it ideal for sharing the cabin with other couples / friends. The cabin will comfortably sleep 4 people but also has a large living room with a couch so it could technically house more. It's perfect for families with kids, or two couples, friends, etc.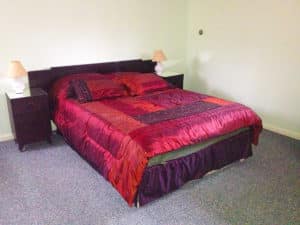 The living room has a lovely upright piano for the musically inclined and a great cast iron wood burning stove (for those cooler evenings early or late in the season). It also has a dining table, chairs and comfy couch and an out door patio with a wooden picnic table. No air conditioning but there are ceiling fans in the living room and master bedroom.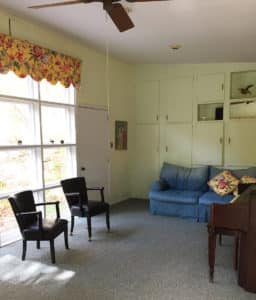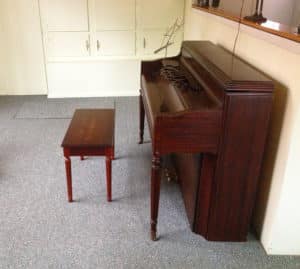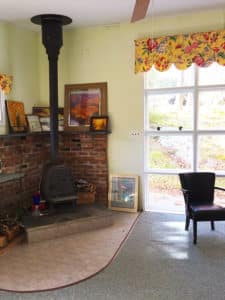 Kitchen: There is a full kitchen with a sink, stove top oven, microwave, brand new refrigerator and lots of counter space for those who like to cook.
Bathroom: One full bath with a shower and toilet.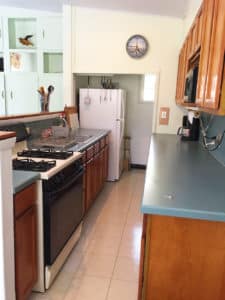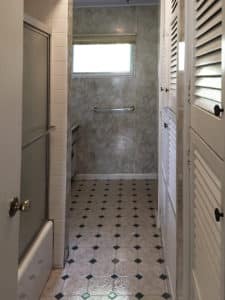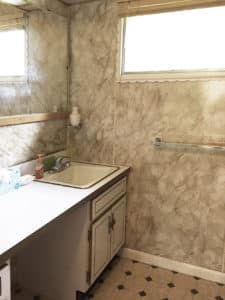 Location / Privacy: The cabin is somewhat secluded so you can enjoy the quiet, play music, have guests over or small parties without disturbing neighbors. It's also centrally located near the club's hot tub and tennis courts.
Front Yard / Deck: At the front entrance to the cabin is a deck with a picnic table, so you can enjoy nice weather by dining outside. There's a small front yard with trees and plants on the edge, creating more privacy.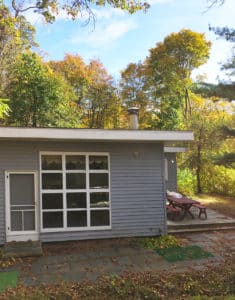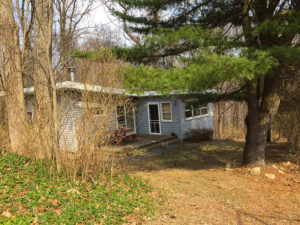 Parking: A parking area is just around the corner next to the hot tub with space for 1 car (or 2 if you don't mind one car blocking the other). There is also more parking available in the general guest lot, just up the hill from the cabin.
Laundry: The nearby club bungalow has a communal washer and dryer (pay-per-load).
Pets: Tenants may have one dog and one cat. (Dogs are also subject to approval by the club.) Other or additional pets must be discussed for rental agreement.
Accessibility: There are two small steps on the deck to reach the sliding door into the living room or the guest bedroom entrance. The other side entrance door has one small step onto a ledge and then a bigger step getting in the door. The cabin is otherwise all on one level apart from the basement (which you should not need to access). The bathroom and kitchen may be too narrow to accommodate a wheelchair (but not 100% sure).
Rates:
Entire season from May 1 – October 15th: $6,500 plus electric ($40 – $60 / month on average).
July and August: $2,500 / month plus electric.
May and June: $1,500 / month plus electric.
September and October (6 weeks): $1,800 plus electric.
All rental agreements will require a security deposit.
Contact me at the email below to inquire about short-term rentals. Please note that you must be a full or associate member of Rock Lodge to stay for more than 4 days. Non-members are responsible for club day fees and must check in at the club office upon arrival. Visit the Rock Lodge website for more info on membership and visitor fees – www.rocklodge.com.
Contact Info: If you are interested in renting the cabin this season, please email me at [email protected] .
About Rock Lodge: Rock Lodge Club is a co-operative family naturist club in Stockholm, NJ. It's located on 145 acres with a beautiful forest and spring-fed lake for swimming. Its facilities include an outdoor hot tub, sauna, tennis courts, volleyball court, playground, clubhouse and recreation room (ping-pong table, games, library, piano, TV). Nudity is required in the hot tub, sauna and lake. The grounds are otherwise clothing-optional. The club has over 200 members and an active social calendar with themed parties, a weekly Sunday coffee klatch, artistic and literary events, children's activities and more. Learn more about RLC at www.rocklodge.com.