Review of Gunnison Beach – New Jersey Shore's Nude Beach
Gunnison Nude Beach in NJ Reviewed by Erik Jakobsen
Gunnison Beach – When New Jersey Senate Bill 1912 effectively outlawed nudity on the state's public beaches in 1999, nude beach fans in the tri-state area were dealt a significant blow.
One notable exception to the law, however, was Gunnison Beach. Located on the Sandy Hook peninsula just a few miles south of New York City, Gunnison Beach is part of the Gateway National Recreation Area – which is owned and operated by the National Park Service. Since it is generally legal to be nude on federal land, Gunnison was spared from S.B. 1912's effects.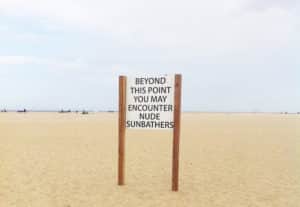 Gunnison Beach is officially divided into two areas – clothed on the northern half and clothing-optional on the southern half (it's probably a surprise to no one that the clothing-optional side is far more popular). The clothing-optional side is further subdivided (unofficially) into a straight area and a gay area (at the southernmost end of the beach). On any given sunny summer weekend, 3,000 or more bathers can be found on Gunnison Beach.
The history of nude bathing at Gunnison goes back to the 1950's, when Sandy Hook was home to the Fort Hancock military installation (large concrete gun placements are still clearly visible at the entrance to Gunnison). Servicemen would routinely skinny dip there, and when the base was decommissioned and turned over to the National Park Service in 1972, members of the general public continued the tradition.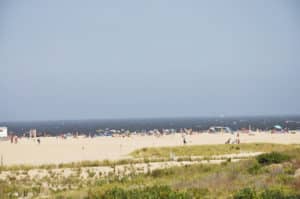 The atmosphere on Gunnison is lively and enjoyable. The regulars say the level of behavior is better than most clothed beaches. Part of the reason could be that Gunnison (as well as the rest of Sandy Hook) is constantly patrolled by Park Service Rangers. While harassment of nudists by clothed beach goers or even fellow nudists is a rare occurrence, the Rangers have little tolerance for it and quickly respond to any reports of problems.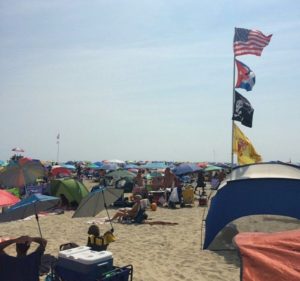 There is an active group on the beach as well called Ranger World, whose leaders monitor the area for unwelcome behavior. Also, even with several thousand people in attendance, there is still a tremendous amount of open beach. This allows everyone to spread out and minimize any disruption to fellow beach goers. Those who wish to drink and / or listen to music in groups can set up camp away from the bulk of the crowd.
The under-40 age group is also well-represented, easily making up between one-third and one-half of the weekend crowd on average. There is also a noticeable presence of younger children and families. As far as ethnicity, on a strictly percentage basis, the majority of those who come to Gunnison are Caucasian.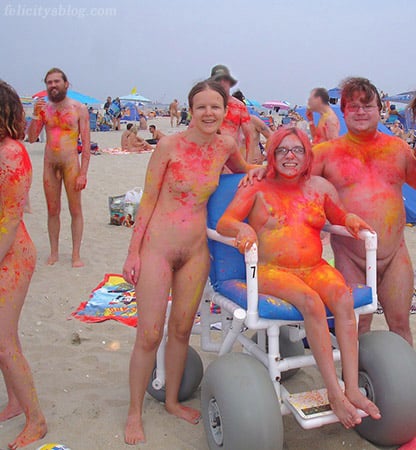 But people from other ethnic backgrounds also make a good show of force. Recently, on Gunnison Beach online forum, an African-American woman asked whether or not she should consider coming to the beach. She was worried that she would be the only African-American there, but nothing could be further from the truth. African-Americans probably make up the second-largest ethnic group at Gunnison, but the Asian and Hispanic communities are clearly represented as well.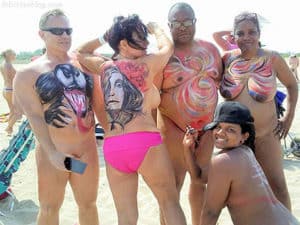 While public nude beaches can often be the Wild West of nudism, I recommend Gunnison to anyone who is thinking about going, regardless of age, race or background. If your impression of the Jersey shore comes from the television show of the same name, you're really missing out on one of the pearls of nudism on the east coast. The water is clean, the people are great, and with the New York City skyline visible in the distance – what more could you ask for?
IF YOU GO: The nude beach is easily accessible from New York City either by car (about a 1 hour and 15 minute drive) or the aptly-named Seastreak ferry. The ferry is seasonal and usually begins late May. From the ferry landing at Sandy Hook, there is a complimentary shuttle that can take you to Gunnison Beach. (Check the website at seastreakferry.com for tickets, fares and schedule information.)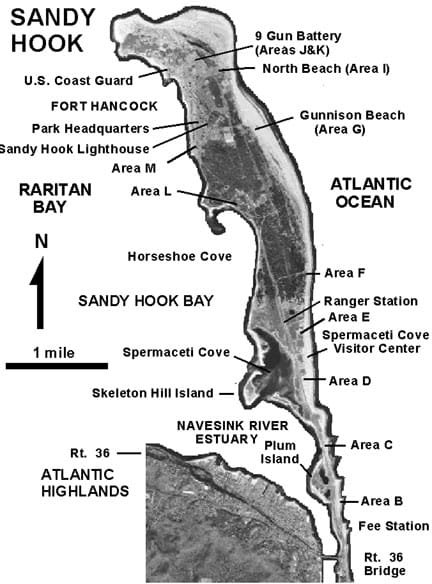 Cost of admission: There is no admission fee to the Gateway National Recreation Area, but there is a $15-per-vehicle daily parking fee. An unlimited-visit season parking pass can be purchased for $75. The parking fee is collected from 7AM to 5PM during the beach season from Memorial Day weekend through Labor Day. The park is open year-round, so it's free during the off-season.
Vehicles arriving outside of regular hours do not have to pay (the area is open from 5AM to 9PM during beach season). The Park Service will close the entrance to the park once the lots fill up, which they do. On summer weekends, it is best to arrive at the park before 11AM to get into the main parking lot.
There are other lots, but these are further away from the beach. On nice days, the entrance is often closed from 11AM to 3PM or later. Lifeguards are on duty from 10AM to 6PM. At 6PM, everyone is required to get out of the water before the lifeguards go off duty. But once the lifeguards leave, everyone is welcome to return to swimming (at their own risk, of course).
Food / Drink: Alcohol is allowed, but not in glass containers. There are no longer any vendors selling food / drink on the beach itself. During the busiest months, on weekends, there is a food truck at the entrance to the beach. They serve typical fast food like hot dogs, hamburgers, fries, ice cream, etc. (More info on other vendors below.)
There used to be a restaurant on Sandy Hook called The Sea Gull's Nest, but it was closed after Hurricane Sandy. There are some restaurants very close to the entrance of the park if you want to dine before entering or after leaving.
It's a bit of a walk from the Gunnison parking lot out to the beach (about 350 yards or so). If you are bringing quite a bit of stuff (coolers, bags, etc.), you should consider bringing a proper beach cart with wide wheels to haul things.
There is a walkway out to the beach, but it's only about 50 yards long. The rest of the way is loose sand. Standard carts with narrow wheels will quickly get stuck. Tents with 3 sides or less are allowed, and 4-sided tents are now prohibited. Since there is no other shelter on the beach it is highly recommended that you bring an umbrella or something other than just sunscreen!
Vendors / Rentals: During the summer beach season (weekends only), you can expect to find a vendor renting umbrellas and chairs at the Gunnison entrance. They also sell essentials like towels and sunscreen.
Showers / Restrooms: The Gunnison entrance area has restrooms, outdoor showers and a water fountain. Nudity is not permitted in this area, so you need to be wearing a swimsuit or clothing. (So yes you have to shower clothed, and it doesn't make any sense.)
Etiquette: Visitors should be expected to follow the usual nude beach etiquette for the comfort of others and to ensure that we all get to keep enjoying the beach for decades to come! So to sum up: Respect your fellow beach goers, clean up after yourself, drink responsibly, don't gawk / stare, do not engage in sexual activity, and always get consent before taking photos of others.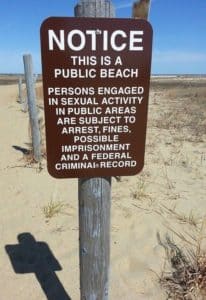 Accessibility: The long walk from the parking lot to the actual beach can make Gunnison seem particularly inaccessible to those with physical disabilities. However Sandy Hook does have beach wheelchairs, and it's free to borrow one for the day. You will also need to have someone ready to push the chair over the 350 yards of sand to the shore, which does take some effort! To get a wheelchair, call the Sandy Hook Visitors Center at (732) 872-5970 to reserve one in advance of your visit. Once you arrive at Sandy Hook, you'll need to go to their offices to fill out a form and lend your driver's license for them to make a copy. They will bring the chair or have it ready at the Gunnison beach entrance.
This post was originally published July 2012 and was last updated on April 16, 2018.
This Nude Beach Blog About Gunnison Beach in NJ Was Published By – Felicity's Blog
Read Next: Meet some of the people who visit Gunnison Beach in The Real Nude Beach Photography Project
Links:
National Park Service's Gateway National Recreation Area
NPS Fee Schedule for Sandy Hook
1999 New Jersey Senate Bill 1912