The Life of Artist Lucian Freud and His Magnificent Nude Paintings
"What do I ask of a painting? I ask it to astonish, disturb, seduce, convince." — Lucian Freud
The late Lucian Freud was a contemporary painter most known for his figurative art and portraits. The grandson of Sigmund Freud, Lucian was born to Lucie and Ernst Freud in Berlin in 1922. In 1933, he and his family fled to Britain to escape the growing persecution and fascist policies of the Nazi party. They settled in London. As his parents were well-to-do, Freud attended various private schools and then studied art (primarily) at the East Anglican School of Painting and Drawing from 1939 to 1942.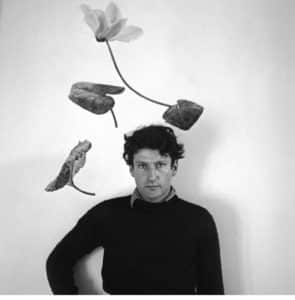 Freud was known throughout his life as an immensely private person. As a result, many of the subjects of his paintings and portraits feature the people he was close to – family, friends and lovers. Freud was married twice. His first wife was Kitty Epstein, the daughter of sculptor Jacob Epstein. They were married from 1948 – 1952 and had two children. After their divorce, Freud married heiress Caroline Blackwood; they were together from 1953 – 1959. Freud never married again, but he sired at least 12 other children with various mistresses.
Lucian Freud created hundreds of paintings over a career that spanned seven decades. His earliest paintings date back to around 1940. His final work of art, "Portrait of the Hound," was still in progress when he died at age 88 in 2011.
His style of painting was marked by a transition between two distinct styles. The first, encompassing the first decade or so of his career, was heavily influenced by Surrealism. His more distinctive style began to emerge in the early 1950's and was defined by the distinct fleshy tones accomplished by a liberal amount of paint. He continued in this latter course for the rest of his life.
Early Works
A youthful Lucian Freud studied under Cedric Morris at Dedham during World War II. Among his earliest works is a portrait of his mentor. Although the painting presages in some small way the thicker paints and distinctive flesh tones that came to define his later career, it hints more towards the surrealism that would define his work throughout his 20's.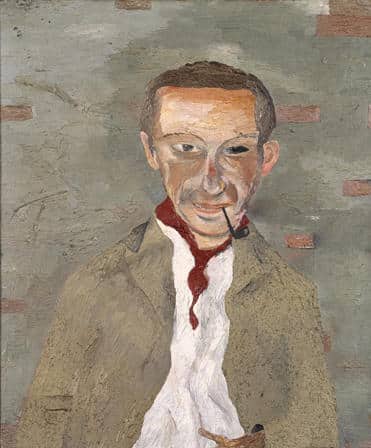 The surrealist roots are perhaps most evident in his 1947 painting "Girl with a Kitten." His wife Kitty was the subject of many paintings, including "Girl with Leaves" and "Girl with a White Dog." The latter painting marks the beginning of his transition into richer, fleshier paints, as well as a burgeoning exploration of the human form.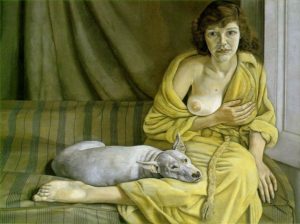 His 1951 portrait "Interior at Paddington" was largely responsible for jump-starting his career. As the 1950's wore on, less and less of his paintings bore the influence of surrealism. "Girl with a White Dog" and "Girl in Bed," a portrait of the Lady Blackwood, hinted at his burgeoning new style, which by the late 50's and early 60's was in full effect.
Later Career
Freud did not restrict his subject matter to humans. He painted buildings and nature. He was fond of horses and painted them on occasion. What intrigued him the most, however, was the human form. His interest was not merely aesthetic. As Freud once explained, "I paint people, not because of what they are like, not exactly in spite of what they are like, but how they happen to be."
In many ways, Freud's work explored the contrasts of clothing and naked flesh. A striking example of this juxtaposition is his painting "Large Interior W.9." Seated on the armchair is Freud's namesake, his mother Lucie. Her dress is dull brown, in contract to the rich hues of her face. Behind her a young woman is juxtaposed, with the bare flesh of her upper body exposed.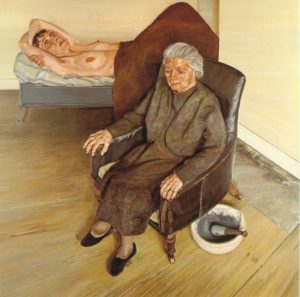 His 1975 nude painting, "Annie and Alice," is another masterpiece in exploring the human form. In this case, the contrast is of the two women's conditions. Freud beautifully captures the pregnant female form in all its glory while also highlighting the tender affection of the two women.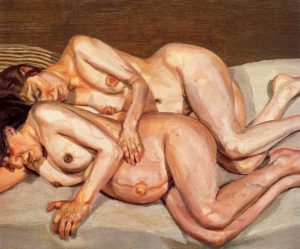 Freud did not shy away from the male figure either. His work entitled "Naked Man with Rat" makes no attempt to create a flattering image of the male form. The painting is remarkable. The expression on the man's face is difficult to interpret, but it doesn't suggest tranquility or peace. The presence of the rat is a jarring addition that further highlights the deeply personal nature of this work.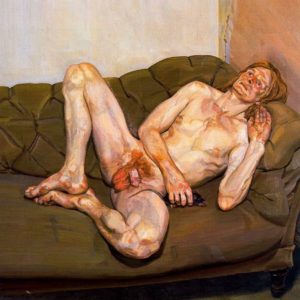 "Benefits Supervisor Sleeping" may be Freud's best known work. Freud once declared, "I want paint to work as flesh, I know my idea of portraiture came from dissatisfaction with portraits that resembled people. I would wish my portraits to be of the people, not like them. Not having to look at the sitter, being them. As far as I am concerned, the paint is the person. I want it to work for me just as the flesh does."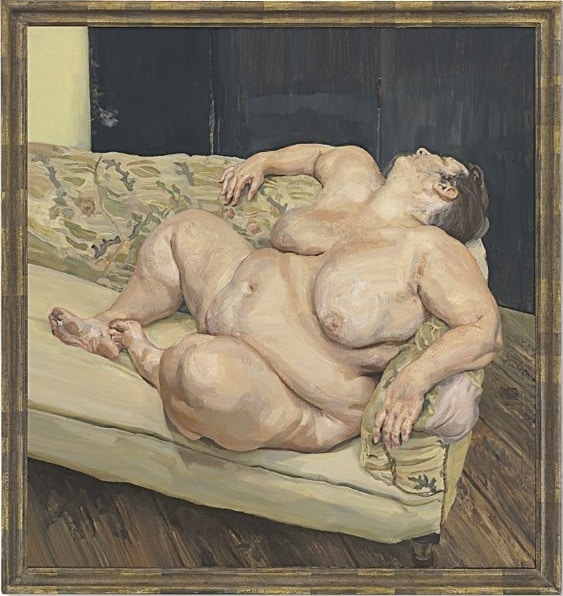 Nowhere is this more true than in his portrait of Sue Tilley, which is one of the most expensive paintings in history. Freud humanizes his model in a way that few would. The painter's unfailing recognition of Tilley's humanity makes this a truly exceptional work of art.
Lucian Freud painted a number of self-portraits throughout his career. He was not afraid to give himself the same treatment as his subjects and painted himself nude in 1993 when he was in his 70's. His nude self-portrait, "Painter Working, Reflection," is pictured below.