Don't Get Scammed By "Nudist Dating" Websites
Nudist Dating Site:
As Nudie Lee pointed out in response to a nudist dating question, the internet can help anyone looking for that special person(s), including nudists. There are online dating sites galore, and many couples meet each other this way.
The only caveat for nudists is that there is no real nudist dating site out there. There are a few social networks for nudists, but there are no networks just for nudist dating. Any such website you've seen is most likely not what it claims to be.
There is one company that's been periodically creating the same nudist dating site over and over. They just keep using new domains, such as nudisttodate.com, nudistpassion.com, nudistpersonals.org, nudistfriends.com etc. All of these sites follow the same basic format with a sign-up form and preview photos of supposed "members" available to date.
It looks like a web service appropriately called "Dating Factory" provides the template and allows them to quickly create these new sites.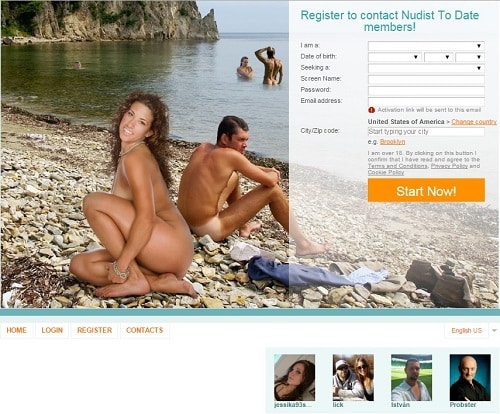 Without signing up for one myself, I've tried digging around online for reviews or complaints from people who have joined any of them. I never found anything substantial, other than a complaint from one of their promoters. It seems they operate on some sort of referral program where people get paid by signing up new members. You may have seen their online promoters on social media, who typically use an image of an attractive naked woman. These people create fake Twitter accounts and Facebook profiles just to promote these shady websites. They can also be found spamming the comment sections of other nudist websites and blogs.
I've heard a few strange stories here and there from people who've tried them, and none were positive. Most likely, the members you're seeing on their sites are not real. I think the whole point is to get people to buy a membership (I know one person who signed up for $30/month) and that's how they scam you.
I would love for someone to prove to me that one of these websites is real, but until then, don't fall for it. Take your money to one of the general, reputable mainstream dating sites, such as OkCupid. You may not find very many self-identified nudists on these sites, but you will find people who are open to nudism / naturism. Or you'll meet people who have gone skinny dipping with friends or went to naked parties in college. They just don't call themselves nudists.
Should you write on your dating profile that you're a nudist? That's up to you. It could be a turn-off to those with preconceived notions about what a nudist is, and you'd never get the chance to tell them what it's really about. So you can also wait to tell someone in person on one of your first couple of dates. Nudie Lee also has more nudist dating advice on that.
You can also try one of the nudist social networks, like The Naktiv Nook or TrueNudists, but it can be challenging to find legitimate nudist friends on these networks, let alone potential partners. I'd stick with the mainstream dating sites as far as online dating goes.
But if naked blind dates are your thing, you could always try Dating Naked? 😉 They're currently casting for their 2nd season. (Update: As Dating Naked has changed their whole format as the seasons progressed, this is no longer a TV dating show I would recommend anybody to join.)
Update February 2018: Since publishing this article, I've had one or two people tell me that they have met real people on one of these template nudist dating sites. I can only guess that they are meeting other people who also thought they were signing up for a legitimate service… My advice remains the same: Don't waste your time with these sites, and stick with the mainstream dating networks.
What do you think, readers? Does anyone have an experience to share with a fake nudist dating site? Do you know of any legitimate sites for nudists looking to date?
This article about Nudist Dating Websites was published by – Felicity's Blog