Review of Verde Hot Springs in Camp Verde, Arizona
Jordan and I needed our annual break from the harsh winter (the groundhog saw his shadow so only 6 more weeks, right?!), so at the end of January we flew from NY to Arizona!
Our goal was to do a lot of hikes and spend time in nature, and that we did while exploring the areas around Sedona and Flagstaff. I find the landscape, red rocks, desert and forests to be absolutely beautiful out there. And we haven't even seen it in spring or summer yet. That will be for another trip!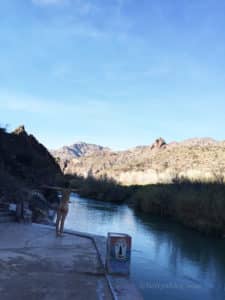 I hadn't planned for any nudie excursions, partly because I wasn't sure the daily temperature was going to get above 60 degrees north of Phoenix (this didn't scare me, it was still warmer than NY). But as it turned out, a warm front swept in with plenty of sunshine and temperatures above average all over the state.
Then, thanks to some very nice friends on Twitter, we got a recommendation to visit Verde Hot Springs located in the Tonto National Forest in Camp Verde, Arizona. I had done research about hot springs in AZ a while back, and had come across this location, but thought it was swimsuits-required. Lucky for us, it's more so clothing-optional!
We saw it wasn't far from Sedona and found a free day for it in our week-long trip. Though we also knew it was a bit of a trek to get there. The highway part was easy, but from Hwy 260 it was a turn-off onto a bumpy dirt road for around 21 miles. We'd already done some heavy off-roading for a shorter hike to the famous Devil's Bride in Sedona (not a fun drive – do the longer hike), so after that experience and getting advice from locals, we figured this must be doable for us.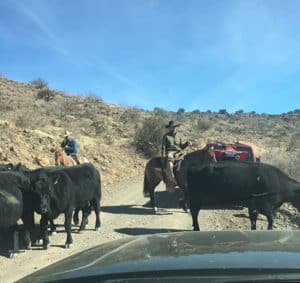 And the drive was fine. I'd still recommend taking a SUV with 4 wheel drive, but even a guy we met there got almost the whole way with a regular size car. The road is maintained and gets re-graveled periodically. There isn't just hot springs around here but also other recreational areas for hiking, camping and swimming in this area known as "Fossil Creek" (a tributary of the Verde River). It also offers great views of the forest and mountains on the way down!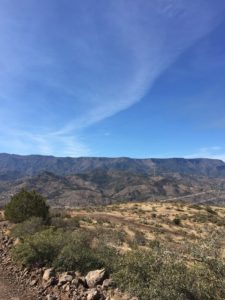 Verde Hot Springs has an interesting history – they were once part of a luxury resort built along the Verde River (hence its name) in the early 1900's. It came after the construction of the now closed Child's Power Plant. The resort was a famous destination for the wealthy but they ceased operations in the 1950's. After several attempts made to reopen, it burned down in 1962.
Now all that remains are some concrete slabs from the foundation and the hot spring pools built into the cliffside across the river.
We parked down by the river, which I believe is also a camping area. Then we set off on a mile hike. There isn't a clear path, so we had to kind of zig-zag our way through, but you won't get lost as long as you keep following the river. (There is a road you can follow also – more on that later.)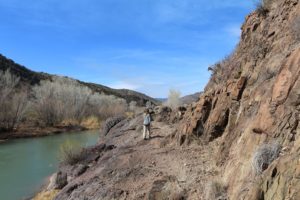 An easy sign that you're in the right place is the sight of tall palm trees on the other side of the water! Planted back in the resort's heydays. So then you have to swim or wade across the river to reach the old hot springs. Further upstream there's an opening in the trees along the water where many people do the crossing. The water level can vary, and it's a little off-putting when you can't tell how deep it is. But on this day it came up mid-thigh on me. I rolled up my pants, went barefoot and carried my boots and bag (water shoes would be helpful here). The water was freezing and the current pulled at us, but we made it!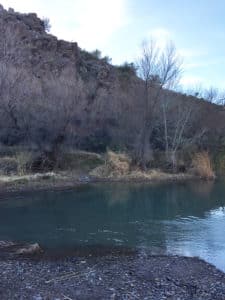 Once you reach other side, it's a short trail to get to the hot springs. What remains here are some concrete steps leading down to a platform and a few pools. The biggest one is in the open air against the rocky cliffside and is quite deep. Another pool next to it is smaller and shallow and surrounded by a rock wall. Next to that is an even smaller pool fit for one person. Then there's one more small pool situated inside of a dark cave. Nobody went in that one.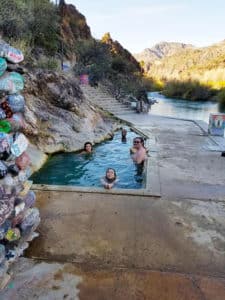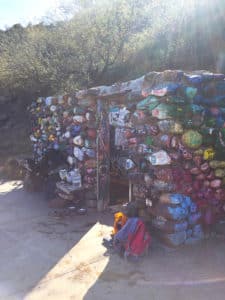 There is lots of colorful graffiti and artwork on the walls and on the old pillars – drawings, cartoons, odd and inspirational sayings. It is entertaining to read, and some of it's pretty to look at. It all adds to the character of the place. A message on the big concrete steps instructs visitors: "Please paint only from your heart on man made walls. Thank You."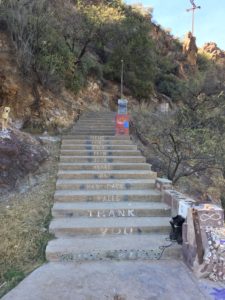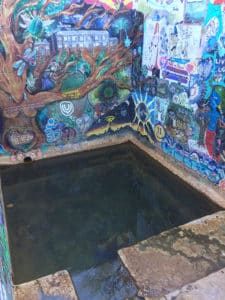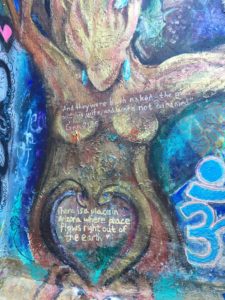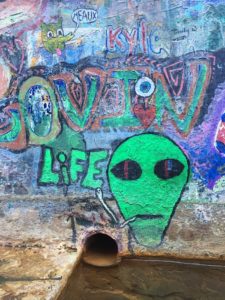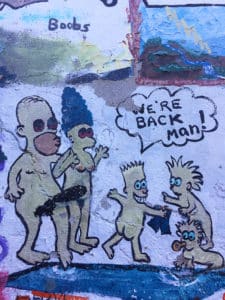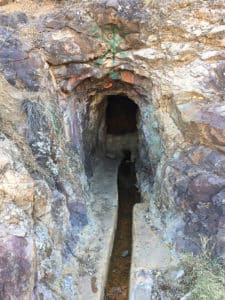 It was a warm day, but I was surprised to see about 6 people there over the course of our visit, seeing as this was in winter and a weekday. Just goes to show how popular this spot is, despite the patience required to reach it. Upon arriving we met two hippie wanderers and later a mermaid (!). A local friend who told me about Verde said he's "never met anyone here who wasn't cool."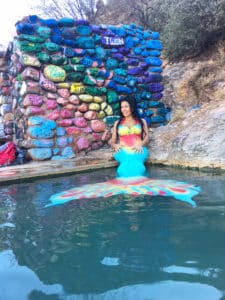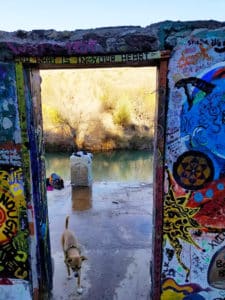 Nudity may technically require a special permit here, but it's not enforced and seems as though many people go naked. Even the "nudity prohibited" sign posted on the road has been altered (repeatedly I think) to say "nudity not prohibited." Of the people we saw, a few went naked and a few didn't. Everyone was cool about it. Though it's still probably easiest to get there early and set the c/o vibe.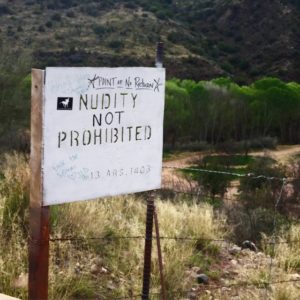 The pools are all 98 degrees or warmer. I found that the enclosed pool felt hotter than the big one. I've read that there are more pools along the river within caves in the cliffside, but one of the wanderers said he went looking and didn't find any.
After a few hours soaking in the pools, enjoying the scenery and chatting with amiable locals, we made our way back down the path and across the river to hike back to our car. This was such a magical and wonderfully peculiar place, and I'm so glad we took a day to come here!
As a side note, the waters here have a lovely greenish color to them because of travertine – a white mineral deposit that comes from dissolved limestone and reflects the light.
If You Go: Take Fossil Creek Road to Child's Power Road all the way down until it turns into a sandy dirt road and you reach the river and campground. (This drive took us about 45 minutes.) From the parking area you can either hike along the river (unmarked and sometimes finding your own way) or you can walk up to where Child's Power gravel road actually continues (but is barricaded so you can't drive on it) and follow it as it runs parallel to the river. I think you can spot the palm trees so you know where to hike down to the river, but you can also find Verde Hot Springs on maps and use your smartphone to track your location.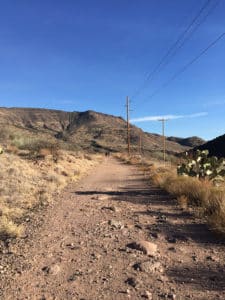 This review was written and published by – Felicity's Blog